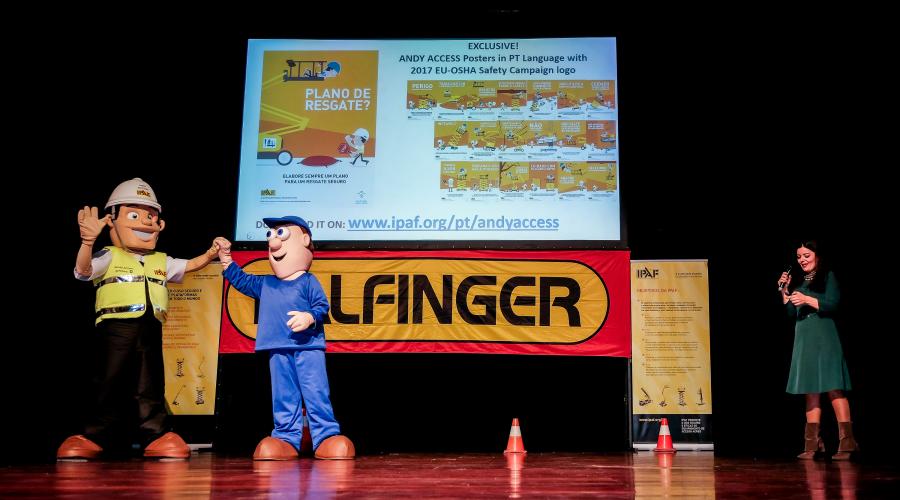 Andy Access and Napo, the larger-than-life mascots for IPAF and the EU-OSHA, have collaborated in a vivid stage performance to share best practice guidance when working with mobile elevating work platforms (MEWPs). The performance took place during the first EMAF International Seminar – Safety Machinery, Mobile Elevating Work Platforms and Work Equipment, in Porto, Portugal, on 21 November 2018.
Filipa Sanches, IPAF's Portugal Representative, comments: "This was a seminar packed with top speakers, and representatives of leading powered access companies and major contractors; thanks to the quality of the presentations, it was a very successful event."
Among the companies represented were IPAF members and training centres, including Palfinger, Transgrua, Loxam, Jorge Lozano-Trabalhos em Altura, and major multinationals such as Vodafone, Sintimex, OET, ACT and CATIM. IPAF also used the event to launch the latest Andy Access posters to promote safety messages on job sites or in breakrooms, which all now carry an endorsement from the EU-OSHA safety campaign, following an agreement struck at the VDS safety event in Lieria, Portugal, last year.
Galeria - flic.kr/s/aHsmnKoR4S
Sobre o Andy Access: www.ipaf.org/pt/andyaccess
Sobre o Napo: www.napofilm.net/pt
Other news you might be interested in