Webinar: MEWP Standards for North America
Webinar: MEWP Standards for North America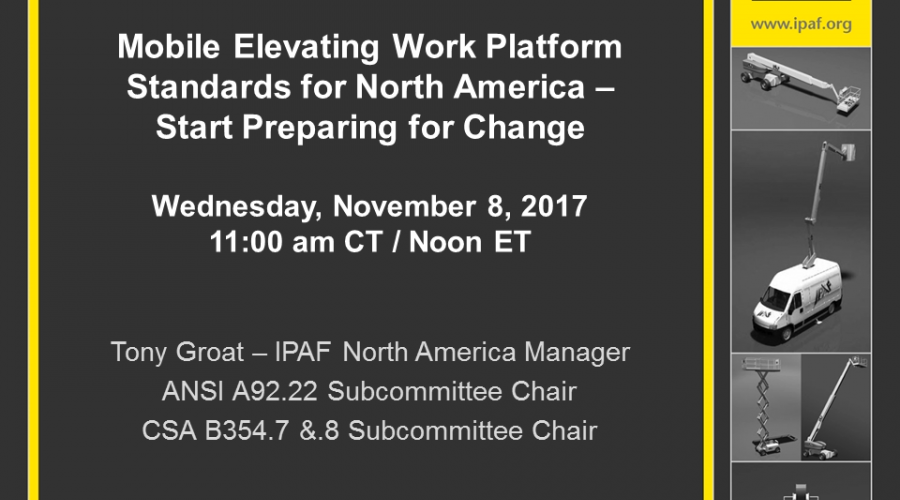 Added 6 Feb 2018
Last updated 6 Feb 2018
Resource also available in:
Originally broadcast on November 8, 2017
Tony Groat, IPAF's North America Regional Manager, looks at the proposed standards for Mobile Elevating Work Platforms (MEWPs) in the US and Canada. 
The proposed ANSI/CSA standards are introducing new and broader changes that will impact all industry stakeholders, who will have 12 months after publication to become compliant. Canadian standards were published in May of 2017 and the US standards are anticipated for publication soon. While the 12 month period from publication to effective date seems long, preparation is required.

Planning sooner than later will get your business prepared and ready to address the potential impact of the proposed changes.

The design standard will not only impact manufactures but also users of the equipment when mandatory platform load sensing is installed. Awareness of the broader and more detailed safe-use requirements that will impact users, supervisors, operators, and occupants of MEWPs is a starting point. The new training standard will provide clear and detailed requirements for training for operators and supervisors.
Details of future IPAF Webinars are available at www.ipaf.org/events.