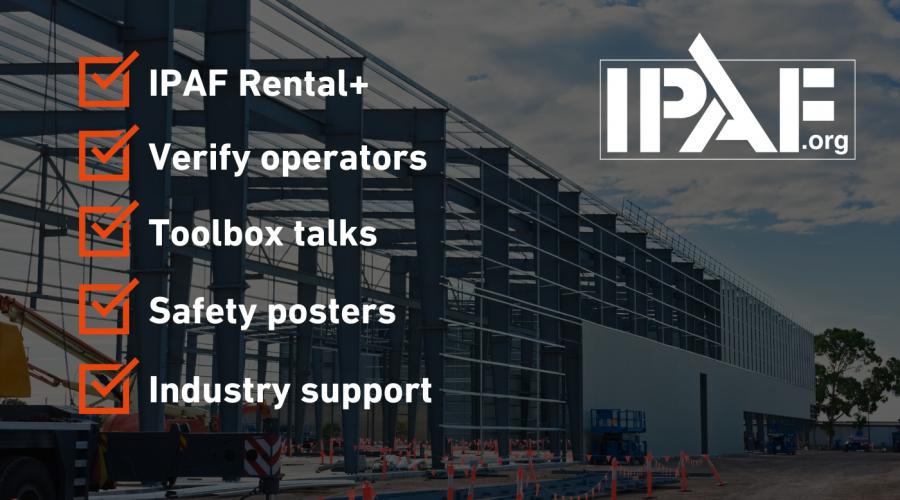 IPAF can support contractors by providing a hub for safety, good practice, efficiency and technical know-how. Here you will find links to relevant documents, guidance, toolbox talks, and information to support contractors to work safely when using powered access.  If you can't find the information you are looking for please contact IPAF at +44 (0)15395 66700. 
IPAF Rental+ 
Are you ensuring your company uses legally compliant rental companies for hiring your powered access equipment? IPAF Rental+ certified companies are listed in the IPAF Rental+ depot list, they have all been independently audited and meet rigorous standards of training, equipment inventory and customer satisfaction. 
Click here to view IPAF Rental+ members 
IPAF Accident Reporting Portal 
This is a worldwide reporting portal for incidents involving powered access equipment including MEWPs (Mobile Elevating Work Platforms), MCWPs (Mast Climbing Work Platforms) and  Construction Hoists (CHs). You can report any accident or incident in the portal including near misses. IPAF members also have access to the IPAF Accident Reporting Portal - Members' Dashboard, where they can view an anonymised set of data.
View the IPAF Accident Reporting Portal View the Global MEWP Safety Report
Toolbox Talks 
Contractors can access a range of toolbox talks covering topics such as rescue plans, familiarisation and how to avoid common hazards. IPAF toolbox talks are available in a range of languages.
Andy Access Posters
IPAF has created a range of Andy Access safety advice posters demonstrating common hazards and good practice for MEWP & MCWP operators, the posters are all available in a range of languages to download for the website. 
IPAF's Safety Campaigns
In March 2022, IPAF launched its new safety campaign 'Don't Fall for it!'. The campaign identifies key causes of falls from the platform and provides advice about how to avoid associated hazards.
Don't fall for it campaign View IPAF safety campaigns
IPAF's Safety Resources
All IPAF Safety resources are listed in the IPAF Resource Library, www.ipaf.org/resource-library, a few documents are listed here:
IPAF ePAL app 
ePAL is IPAF's app for operators. ePAL enables onsite operators and managers to digitally store, record and share their logged machine operating experience and IPAF qualifications. ePAL also enables the user to be updated on the latest powered access safety and best practice tips and advice via their smartphone, and to access their operator safety guide or site safety guide based on linked licences.
ePAL is free to use and available for all new and existing IPAF licence and qualification holders. Search for 'IPAF ePAL' in the Apple Store for iOS or Google Play for Android.
Keeping up to date with IPAF
Follow IPAF on LinkedIn, Facebook and Twitter, for the latest news announcements and articles. 
IPAF and Industry Events
IPAF hosts and attends hundreds of powered access events across the world every year. Members can receive free and discounted tickets at many industry events. Bookmark www.ipaf.org/events for all upcoming events. To apply to become an IPAF member to access member events and discounts go to: www.ipaf.org/join. 
IPAF hosts a series of webinars, available to view on demand, including safe operation of MEWPs, safe unloading and loading, sustainability and more. To view more go to www.ipaf.org/webinars. 
Other useful links: