Safe workshop servicing & repair of MEWPs Toolbox Talk
Safe workshop servicing & repair of MEWPs Toolbox Talk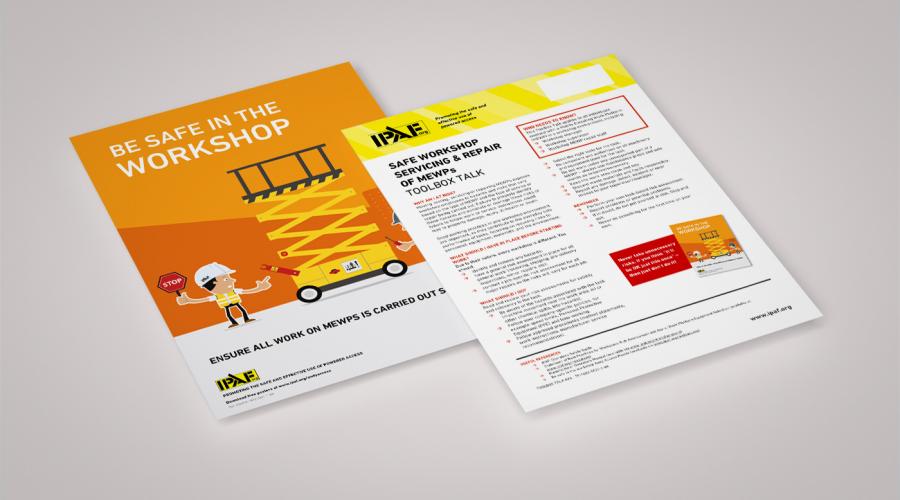 Added 1 Oct 2021
Last updated
Resource also available in:
Please note: this document is for North America, use the 'Resource also available in' to change your language.
Moving, testing, servicing or repairing MEWPs exposes workshop employees to hazards and risks that vary based on the type of MEWP and the type of service or repair being carried out. Failure to properly identify those hazards and eliminate or manage those risks or failure to follow work or service instructions, could lead to property damage, injury, ill-health or death.
Good working practices in any workshop environment are important, as they contribute to the everyday safe performance of tasks, focusing on reducing risks to personnel, equipment, materials, and the environment.
WHO NEEDS TO KNOW?
This Toolbox Talk applies to all individuals involved with a Mobile Elevating Work Platform (MEWP) in a workshop environment, including:
Workshop manager
Workshop supervisor
Workshop MEWP repair staff
WHAT IS A TOOLBOX TALK?
Toolbox talks are short discussion sessions that allow you and your workers to explore the risks and safety issues specific to your work site. The talks should focus on a single topic. A toolbox talk should be a regular occurrence to reinforce learning and gain worker buy-in.
IPAF TOOLBOX TALKS
IPAF's toolbox talks focus on key issues when using mobile elevating work platforms (MEWPs), as well as mast climbing work platforms (MCWPs) or hoists. The talks build on the safety messages highlighted through the Andy Access campaign (www.ipaf.org/andyaccess), and these posters will form part of your briefing. It is advisable that these posters be used throughout your worksite to reinforce your safety messages.
USEFUL REFERENCES
Ref: Toolbox Talk A24 | TE-1083-0821-1-en-US