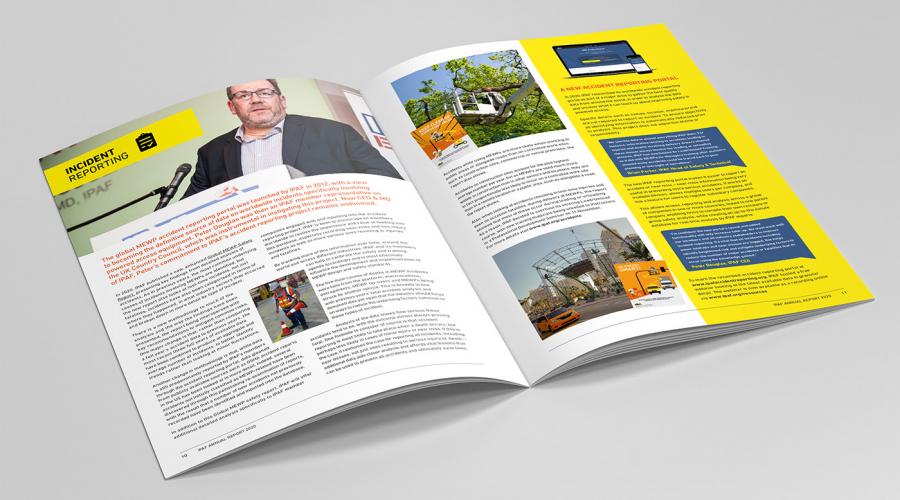 The International Powered Access Federation (IPAF) experienced a strong end to 2020, boosting revenue by diversifying income streams and continuing careful cost control to help restore cash reserves and leave the federation in a relatively strong position after trading was significantly impacted during the early months of the Coronavirus pandemic, according to the federation's latest Annual Report.
Demand for IPAF training fell dramatically in 2020 because of the pandemic, impacting significantly on revenues and necessitating prompt and radical measures to mitigate the financial impact.
The number of PAL Cards issued in the year reduced by almost 24% to just over 134,000, though budgeted training levels were exceeded in some regions, notably the Gulf states, Ireland, Eurasia and the Nordic region. In the dominant UK market, more than 32,000 fewer people completed IPAF training than during 2019.
IPAF's turnover in 2020 reduced by almost £1.74 million (24.8%) to £5.3 million (approximately €6m or US$6.8m), compared with 2019. Revenue from outside the UK reduced from 44% to 41.6% of the total income. While reductions in training income accounts for the vast majority of this, the cancellation of many events and exhibitions also had a significant impact.
However, radical cost management and credit control measures along with support from the UK and Swiss governments' respective job retention schemes and an increase in bank borrowings under the UK's Coronavirus Business Interruption Loan Scheme enabled the business to continue to invest in key personnel, build up strong cash reserves to protect the federation against any future COVID-19 impacts and to a return a surplus of £333.8k in the year.
Peter Douglas, CEO & MD of IPAF, says: "We all know what a tough year it was for businesses around the world in 2020, so to be where we are as an organisation having protected our staff, controlled our costs, diversified revenue and actually increased our total overall membership and go a long way to rebuilding our vital cash reserves is testament to the hard work, dedication and perseverance of all our team, and to the quick and radical responses we took in the early days of the pandemic.
"Particular thanks must go to all our finance team, including Amanda Beckett, who joined as our Head of Finance in 2020, Natalie Wood, IPAF's Financial Controller who provided continuity and stability throughout all of last year while many other staff were furloughed, and also Andrew Bache, our outgoing Head of Finance who assisted immeasurably in the early weeks and months of the year having originally planned to retire in 2019!
"There is no question that the Federation is in a very positive and much healthier position than it might have been based on worst-cast scenario planning in Q2 of last year, and I am very pleased to be able to say that."
Despite difficult trading conditions worldwide, which contributed to the loss of more than 100 members, overall membership increased by 2.1% from 1,422 at year-end 2019 to stand at 1,452 in 2020, extending IPAF's global footprint into 75 countries, including two new countries (Cyprus and Mozambique). In Europe, including the UK and Ireland, membership increased by 2.2%, while IPAF saw growth in membership numbers from outside Europe of 1.8%. Membership from outside Europe remained stable as a proportion of the total at around 31%.
The number of new Training Centres joining IPAF reduced from 45 in 2019 to 37 in 2020, bringing the total at the end of 2020 to 561 across 51 territories, an increase of 1% on 2019. Despite the pandemic, IPAF-accredited programmes continue to generate significant business for members who offer training courses and contributed in excess of 75% to the overall turnover of IPAF in 2020, an increase of 5.1% on 2019.
The overall number of people undertaking IPAF training fell by 41,500 during 2020, with 134,407 people successfully completing a course, a reduction of 23.6% on 2019 (175,986). There was however strong growth in Ireland, Eurasia and the Nordic region.
Other news you might be interested in