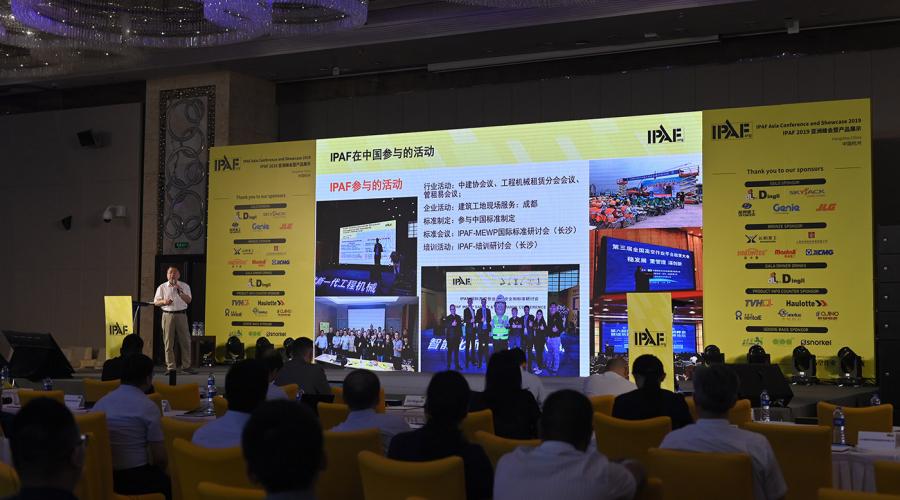 More than 300 delegates attended the IPAF Asia Conference and Showcase, held for the second time in mainland China, in Hangzhou, the capital of the Zhejiang province on 17 July 2019, with safety, efficiency, recognizing and servicing customer needs and harnessing the power of technology among the main conference themes.
In its eighth year, the sell-out event saw attendees turn out from across Asia and further afield to hear a strong line-up of speakers, with Andy Studdert, IPAF's Interim CEO and Managing Director, opening the conference with the question "is a safe company a more profitable company?" The answer was "yes – the aim for everyone should be that their employees go home safely every time."
Jiro Noguchi, General Manager, Nishio Rent All, and Director, North Fork Group Australia, looked at operating a rental business from Japan to the rest of the world. In 1997 the company shifted focus to smaller end users over large construction firms, and had to relearn, understand and respect the culture of all of their customers in doing so.
Lewis Wu, Director of Marketing, Strategy & Product Management, Asia, at JLG, said customers aren't satisfied with the status quo; they want to do things quickly and technology like its app-controlled Mobile Elevating Work Platform (MEWP) is helping deliver this. Tech such as augmented reality (AR) or connected machines, including ones that read IPAF's smart PAL Card, also help make MEWPs more efficient.
Robin Dai, Senior Service Manager, Terex (Changzhou) Machinery Co Ltd, also talked about the need to enhance customer service and machine maintenance, while Jason Zhang Zhi, CEO of Rongfeng Software & Technology, agreed that as your fleet grows, good management becomes more difficult, adding: "You need to begin adopting good principles with a small rental fleet; don't wait until your fleet expands."
The first round-table discussion featured second-generation industry leaders: Johnson Lai, Sales & Marketing Manager at Keng Guan Skylift; Shawn Ong, COO of Galmon; Taewan Kim, Digital Strategist/Manager at Woolim International; and Xu Zhong, Deputy Sales Director of Zhejiang Dingli. Shawn Ong said: "MEWPs were childhood toys for me; I've been in the industry my whole life", while Johnson Lai talked about how his father is open to new ideas, such as for their firm joining IPAF and for Johnson to become an IPAF instructor.
Taewan Kim had a different view, saying that there is a conflict of opinion every day, but that the three family members in the company ultimately all work together to set goals. Xu Zhong added that he enjoys taking his company to the next level through innovation: "Dingli's models target the industry needs, rather than the industry trends."
"When you sell or rent machines, safety is the most important aspect," said Bai Ri, IPAF's China Representative, opening the afternoon program. "As a rental company in China you need to make sure the customer knows that safety is important to you." He also gave a brief overview of the new ANSI A92 standards in the US and what they will means for Chinese manufacturers, equipment buyers and operators.
Ángel Ibáñez, IPAF's Global Representative for MCWP and Related Products, said that operators often believe that once a machine is installed, nothing can go wrong, but this is incorrect. A lack of operator training and education is at the root of why people put themselves into risky situations or cause equipment breakdown, he added.
Geoffrey Lee, Director/General Manager, Modern (International) Access & Scaffolding, shared his 25 years of industry experience. He said he thinks a boss should be a visionary; maybe not a great manager, and need to give staff the leeway to do their job.
Vicki Hall, Director Technical Solutions, Trojan Battery Company, said that choosing a battery is about defining your customers' needs, with knowing what's available in the market and an understanding of technological innovation also key. On the theme of aligning the supply chain to suit your strategy, Xu Ziqi, General Manager of TVH China, said it's important to utilize good stock management and an efficient ordering process.
The final round table discussion saw four MEWP rental pioneers – Kwankamol Duangjun, CEO & Founder, Fivebond; Alex Tan, Founder of Aerial Global;
Vivi Gu, Director of Fleet, Safety & Facilities, Hertz Equipment Rental Corporation (HercRentals); Dzung Tran, President of the TNC Group of Companies – who discussed what they would have done differently, given the wisdom of their experience.
The following day saw more than 150 people attend an informative guided tour of IPAF member and Asia Conference sponsor, Dingli's manufacturing and assembly plant in Deqing, Zhejiang Province. Of the event, Raymond Wat, IPAF's South East Asia Regional Manager, said: "Thank you to our partners who helped make this event possible; to our speakers and round-table participants and of course to all delegates."
Presentations from the Asia Conference are online at www.ipaf.org/asiaconference; the IPAF Asia Conference & Showcase 2020 has been confirmed for COEX in Seoul on 8-9 July – the first time the event will be held in South Korea.
Other news you might be interested in