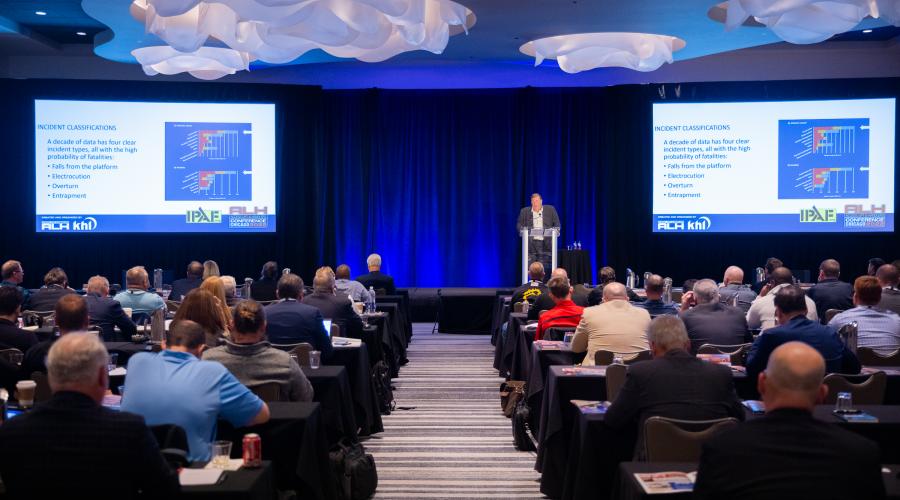 Attendees at the ALH Conference have been urged to adopt the ANSI suite of standards related to the design, safe-use and training of Mobile Elevating Work Platforms (MEWPs) in the US ahead of them being adopted in law by OSHA, the country's governing occupational safety and health body.  
Speaking at the Access, Lift & Handlers Conference in Rosemont, Chicago, IL, on September 29, Peter Douglas, CEO of the International Powered Access Federation (IPAF), urged the US powered access industry to start to "live by" the ANSI/SAIA A92.22 suite of standards, before it is officially adopted by OSHA. 
"Do we have to wait until OSHA adopt these standards and they become regulation before we start living by them?" he asked, challenging attendees to consider whether their business were meeting requirements in the updated standards, including the need for all those who operate MEWPS to be trained; people responsible for familiarizing others to be trained as demonstrators, and a requirement for trained supervisors. 
"My question to you is 'are you living by these standards in your business?'" he asked. "I'm guessing the answer is probably not yes to all of these questions." He argued that if the industry cannot fully adopt the standard, how can it promote best practice among contractors and end users?  
"We need to step up now as an industry to improve safety," he concluded. "Let's not wait to be made to do this by OSHA. We need to adopt these standards now and we need to promote them to the users of our equipment." 
● The ANSI/SAIA A92.22 4.2 Safe Use of Mobile Elevating Work Platforms (MEWPs) standards came into effect in the US in June 2020. For more information about the requirements in the updated standards, and to find out more about how IPAF can aid your company with compliance, please visit www.ipaf.org/ANSI 
Other news you might be interested in