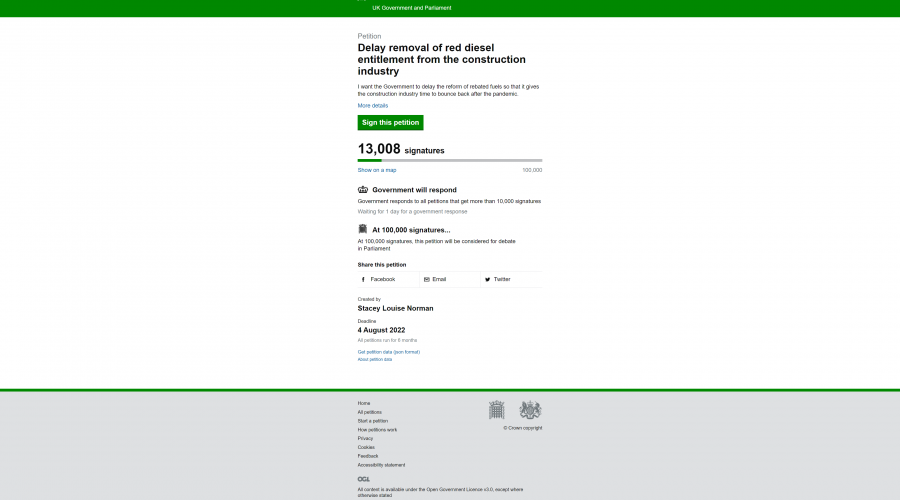 Members of the International Powered Access Federation (IPAF) have been urged to consider signing an official HM Government petition backing construction-industry pleas for Rishi Sunak, the Chancellor, to postpone a planned withdrawal of the red diesel rebate for plant machines in the UK, due to come into effect next month. 
With the planned end to tax relief on red diesel due to come into effect in the UK from 1st April 2022, construction industry trade associations and stakeholders, including IPAF and Build UK, are again writing a joint letter pleading for a debate, review and more time for the industry to plan and prepare for the upcoming change in the law. 
In addition to the letter, stakeholders are being asked to sign a petition to delay the removal of red diesel entitlement from the construction industry. At 10,000 signatures, the Government must respond, and at 100,000 signatures it is obliged to table it for parliamentary debate. At the time of writing, 10,000 signatures have been surpassed.  
Richard Whiting, IPAF UK Market General Manager, contacted UK members about the petition (petition.parliament.uk/petitions/607637), asking: "I hope you will consider signing and joining the groundswell of support to delay the removal of the rebate." 
Peter Douglas, IPAF CEO & MD, comments: "Our members and the wider industry are concerned that the red diesel rebate being withdrawn at this time would have many negative effects, including stifling investment in energy-efficient plant machines and creating a multi-million-pound black market in white diesel.  
"We have supported our members as far as possible to prepare for this change, but what we are hearing is that owing to combined pressures on costs from Brexit, the pandemic, the global energy crisis and now the war in Ukraine, the knock-on effects could be disastrous. We hope the Treasury will consider our concerns and the petition is debated in Parliament, and that the implementation date is deferred." 
Other news you might be interested in