MEWP SERVICE TECHNICIAN AND ENGINEERS: TRAINING AND APPRENTICESHIPS
Roadmap for success: training and apprenticeships in the powered access industry
IPAF has developed an exclusive career pathway that will allow you – or your employees – to become MEWP Service Technicians and MEWP Engineers and achieve industry-recognised qualifications.
These pathways will enhance skills, develop expertise and ensure candidates have the qualifications and behaviours needed in the industry. Whatever stage you're at in your career – from school-leavers to qualified engineers – there's a pathway to suit you and your career development.
"For the first time the powered access sector has a defined technician or engineer career path and training courses to back it up. Here at Lifterz we have already seen renewed enthusiasm among our technical staff and a willingness to achieve qualifications and implement the knowledge and skills gained in the workplace."
Steve Gerrard, Operations & HR Manager, Lifterz Ltd
BENEFITS FOR EMPLOYERS:
A cost effective and high-quality training solution
Confidence that employees are trained to effectively carry out required maintenance and engineering tasks
A clear route for employee development based on business need
A career path created by the MEWP industry for the MEWP industry
BENEFITS FOR EMPLOYEES:
A rewarding career in an exciting and diverse industry
A clear career progression route with defined learning outcomes
Development of competences and highly transferrable skills
A defined pathway for training and career development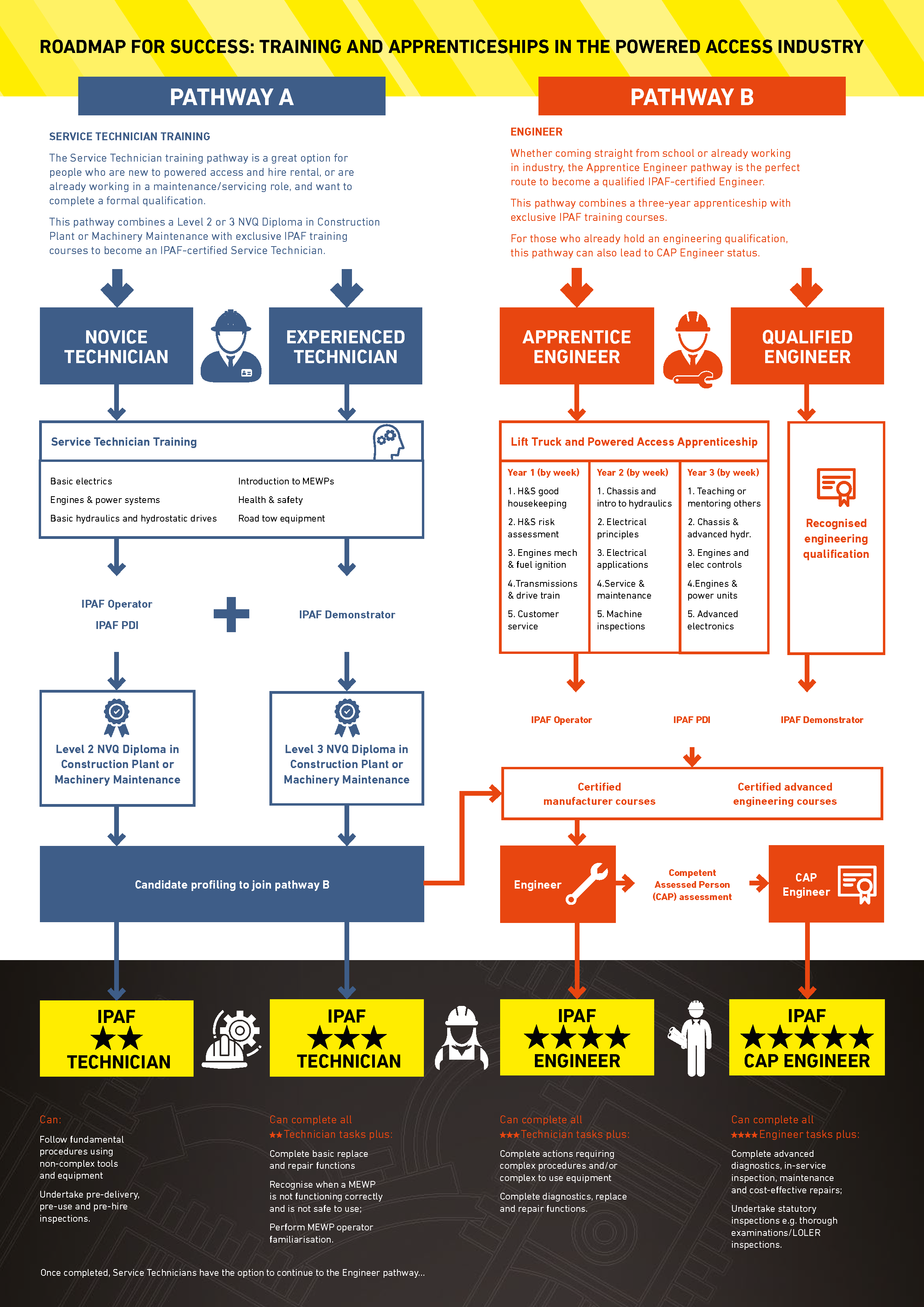 AVAILABLE COURSES
Service Technician Training
IPAF Member firm Learning For Hire Ltd delivers a six-day course of training that is ideally matched to new and existing access industry technicians. The training prepares technicians to progress onto manufacturer led training and can include registration onto the appropriate level NVQ in Plant Maintenance. The course content has been cross-mapped against the NVQ Diploma to ensure all mandatory units are covered.
Succesful candidates receive: 
Training only = 3 CAP points
Training + Level 2 NVQ = 5 CAP points
Training + Level 3 NVQ = 7 CAP points
For more information and dates click here, visit www.learningforhire.com or email bookings@learningforhire.com.
For more information and to register interest in entering candidates on to the IPAF Roadmap, please email richard.whiting@ipaf.org.
Technical Training
IPAF member firm TVH Parts NV has been running its own training centre for technical training for 15 years now: TVH University Technical Training.
TVH University Technical Training provides practice-oriented technical training courses suitable for industrial vehicles such as forklifts, telehandlers, mobile elevating work platforms, small earth-moving equipment and tractors.
The training courses marked with the IPAF logo on their website are IPAF recognised. Competent Assessed Person (CAP) points can be obtained for all IPAF-accredited courses. For each classroom training day and any fully completed digital package, you will receive 0.5 CAP points on successful completion of the theory test.
Eligible training courses can be consulted here
For more information about the courses, please contact TVH directly: technicaltraining@tvh.com
Powered Access Apprenticeship
The 'Lift Truck and Powered Access Engineer Technician Apprenticeship' is a 3-year course that leads towards the required knowledge, skills and behaviours to become a level 3 qualified Lift Truck and Powered Access Engineer. The apprentices will leave the programme with the ability to attend customer sites, diagnose problems and have ability to either economically repair or replace parts where necessary.
NWSLC – North Warwickshire & South Leicestershire College
With a first intake planned for early 2021, NWSLC in conjunction with MTI provides specialist Powered Access apprenticeship training to new recruits and skilled engineers, ensuring all apprentices are certified to meet industry recognised standards. The college works closely with businesses across the country and continues to provide a pipeline of experienced engineers that are ready to combat current and future skills shortages. A yearly 10-week training programme, with a dedicated assessor who will make onsite visits and provide one-on-one support.
More upcoming course dates to be confirmed. Contact katy.urwin@nwslc.ac.uk for more information.