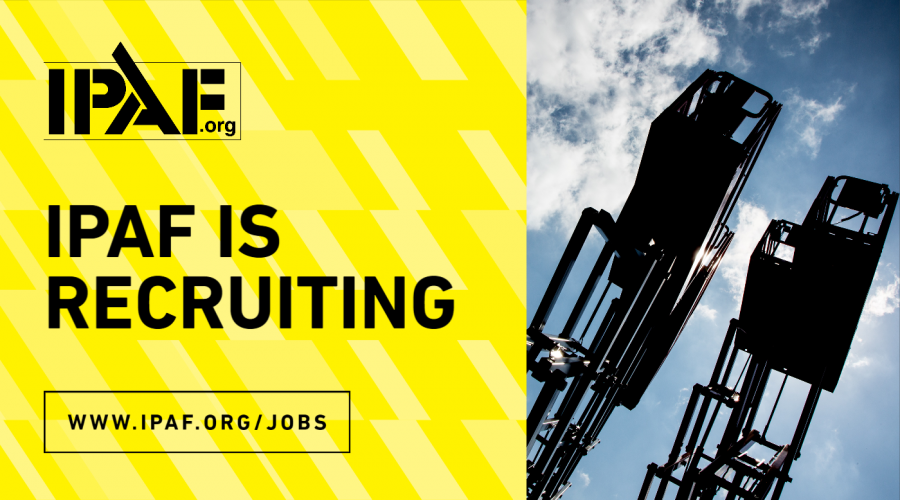 REPRESENTANTE REGIONAL PARA ESPAÑA
IPAF, La Federación Internacional del Acceso Motorizado, es una organización sin ánimo de lucro que promueve el uso seguro y efectivo del acceso motorizado. Con más de 1400 miembros en todo el mundo, tiene oficinas en varios países y la sede principal en el Reino Unido.
Como parte de los planes de expansión actuales, IPAF está buscando un representante para España. Las responsabilidades del puesto se centrarán en proporcionar a los miembros existentes de la federación un servicio local y personalizado, a la vez de promover el reclutamiento de nuevos miembros en España.
El candidato necesitará conocer el sector industrial donde se opera y tener capacidad de trabajar a nivel táctico y estratégico. Se requerirá nivel profesional de Inglés y Castellano. La experiencia previa en un puesto similar es deseable, aunque no esencial. El puesto es a tiempo parcial (un mínimo de 8 días por mes) como freelance autónomo y reportará al Director de Desarrollo Regional. El salario será competitivo, dependiendo de las cualidades y experiencia del candidato. Los gastos de teléfono, los gastos de automóvil, y los gastos generados por el ejercicio de la actividad como representante regional de IPAF, serán reembolsados mensualmente.
Por favor, envíe su solicitud por escrito con su CV en inglés al email jobs@ipaf.org. Fecha límite: 15 de octubre 2020. Las entrevistas tendrán lugar en Madrid o por videoconferencia.
REGIONAL REPRESENTATIVE FOR SWITZERLAND
The International Powered Access Federation (IPAF) is a not for profit organisation that promotes the safe and effective use of powered access. With over 1400 members worldwide, we have offices in several countries and headquarters in the United Kingdom.
As part of the ongoing expansion plans, IPAF is now looking for a talented and experienced representative for Switzerland. Your focus will be to champion safety in the powered access industry by engaging IPAF members in promoting the safe and effective use of powered access in Switzerland. To do this successfully, you will have a passion for quality training with strong focus on health and safety and a desire to make a positive impact on the powered access sector. The position will focus on providing existing members with a local, improved service and promote member recruitment in the region.
You will be knowledgeable within the powered access industry, a confident communicator, able to work at both a tactical and strategic level. Previous experience in a similar role is desirable, although not essential.
The successful candidate will be based in Switzerland, reporting to the Head of Regional Development. The position is part time (60-80%) and on an employed basis, salary offered will be competitive, dependent on qualifications and experience.  Monthly out of pocket expenses, mobile/cell phone and motoring expenses incurred while performing your duties as an IPAF regional representative will be reimbursed.
In you are passionate about championing safety standards and want to make a real difference in the powered access industry, we would love to hear from you. Please apply in writing with a CV and letter of application in English, to Kay Howard, HR Business Partner via jobs@ipaf.org by 5.00 pm on 28 September 2020. Interviews will be held in Basel during the first 2 weeks in October.