Spotter Duties & Function Toolbox Talk
Spotter Duties & Function Toolbox Talk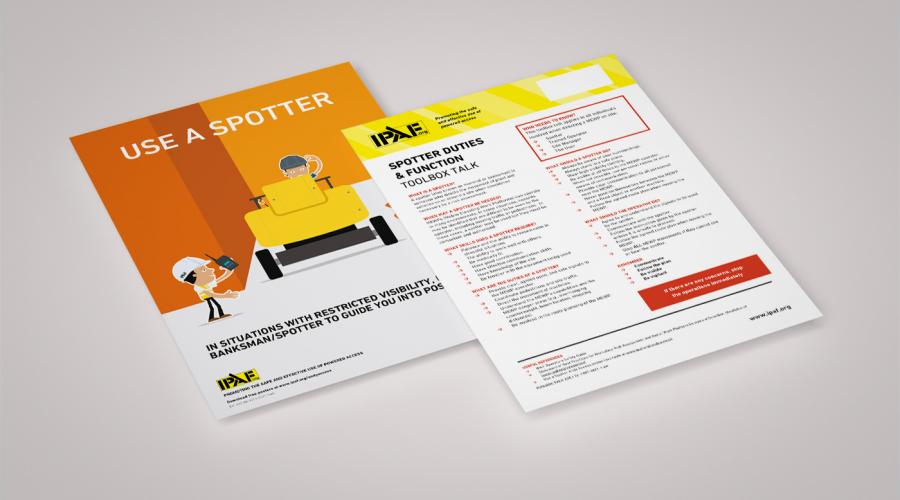 Added 5 Nov 2021
Last updated 5 Nov 2021
Resource also available in:
WHAT IS A SPOTTER?
A spotter (also known as marshal or banksman) is someone who directs the movement of plant and vehicles on or around a site when considered necessary by a risk assessment.
WHEN MAY A SPOTTER BE NEEDED?
MEWPs (Mobile Elevating Work Platforms) can operate in many environments. In some situations, hazards may be identified that are difficult to be seen by the operator, including moving traffic or pedestrians.  In these cases, a spotter may be used but they must be competent and authorised.
WHO NEEDS TO KNOW?
This toolbox talk applies to all individuals involved when directing a MEWP on site:
Spotter
Trained Operator
Site Manager
The User
WHAT IS A TOOLBOX TALK?
Toolbox talks are short discussion sessions that allow you and your workers to explore the risks and safety issues specific to your work site. The talks should focus on a single topic. A toolbox talk should be a regular occurrence to reinforce learning and gain worker buy-in.
IPAF TOOLBOX TALKS
IPAF's toolbox talks focus on key issues when using mobile elevating work platforms (MEWPs), as well as mast climbing work platforms (MCWPs) or hoists. The talks build on the safety messages highlighted through the Andy Access campaign (www.ipaf.org/andyaccess), and these posters will form part of your briefing. It is advisable that these posters be used throughout your worksite to reinforce your safety messages.
USEFUL REFERENCES
Ref: Toolbox Talk A25 | TE-1087-0821-1-en