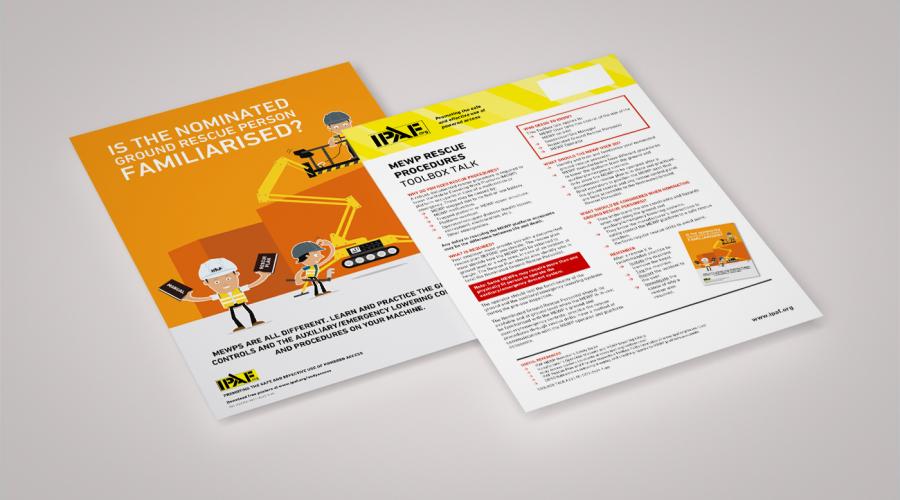 The latest addition to the successful Andy Access poster and Toolbox Talk series has been released by the International Powered Access Federation (IPAF), focused on Nominated Ground Rescue Persons and why they need to be familiar with the MEWP auxiliary/emergency lowering systems and understand the rescue plan.
Brian Parker, IPAF's Head of Safety & Technical, says: "MEWPs are all different, some may require more than one quite fit and able person to execute an auxiliary or emergency descent. As a key part of pre-use planning and risk assessment, it is important that a nominated ground rescue person or persons learn and practise using the ground controls, auxiliary/emergency lowering controls and relevant procedures. Any delay in assisting MEWP platform occupants can be critical."
The Toolbox Talk and accompanying poster are available now in English, with other languages available soon. They add to the existing suite of Toolbox Talks, which in turn supplement the simple messages contained in the popular Andy Access safety posters. The Toolbox Talks can be found at www.ipaf.org/toolboxtalks while all of IPAF's Andy Access posters can be found at www.ipaf.org/AndyAccess; all are free to download.
Peter Douglas, CEO & MD of IPAF, says: "IPAF recommends that those overseeing work at height using powered access use these posters and presentations to deliver simple safety messages on a regular basis. Complacency can be a danger in any workplace, and even experienced operators benefit from being reminded of the safety basics that sometimes get forgotten or overlooked during a busy working day."
Other news you might be interested in