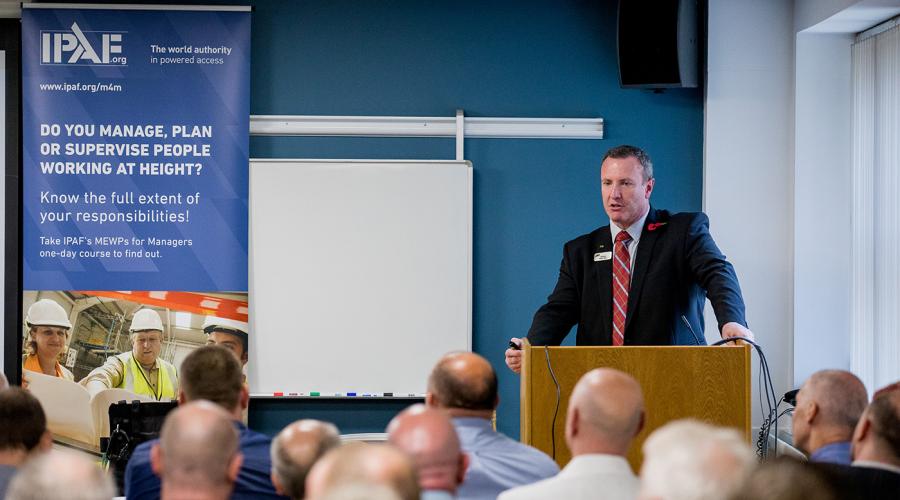 A save-the-date notice has been issued to all training instructors and managers in the UK for a newly formatted annual Professional Development Seminar (PDS) by the International Powered Access Federation (IPAF).
In 2018, IPAF held three separate PDS events, a requirement for instructors to keep abreast of key changes to industry standards and IPAF's training programme – hosting one in Strathclyde, one near Leeds, and one in Hertfordshire. This year there will be one combined event, which will be held on 17 September at the Holiday Inn Birmingham M6 Jct7; 08:30 registration for a 09:00 start.
The full speakers' line-up has not yet been finalised but confirmed to present at the UK PDS this year is Richard Lofts of Nationwide Platforms, current Chair of the IPAF Training Committee. Members of the IPAF team will also give relevant updates.
Susan Foster, IPAF's Training Operations Co-ordinator, comments: "The PDS programme is an important part of how IPAF keeps its instructors and training managers up to date with the latest industry developments and improvements to IPAF courses and training materials; our instructors are committed to keeping on top of these updates and are well aware that IPAF's global training programme never stands still.
"The events are also very important in terms of IPAF listening to the valuable feedback from our instructors and training centres; last year we responded to requests to hold the first ever IPAF PDS in Scotland, this year we are hosting a 'super' PDS with a high-profile line-up of speakers to try and get as many of our training members together in one location to discuss the latest significant updates to IPAF's courses and find out what their top priorities are for IPAF to make further improvements in the year ahead."
Booking will open shortly for this important event. There is a special B&B rate of £100 for those wishing to stay at the hotel ahead of the event; those booking with the Holiday Inn should quote IP2, available until six weeks prior to the PDS. In the meantime, would-be kindly requested to save the date and venue of the UK PDS. For more information on all upcoming IPAF events and meetings, visit www.ipaf.org/events
Other news you might be interested in