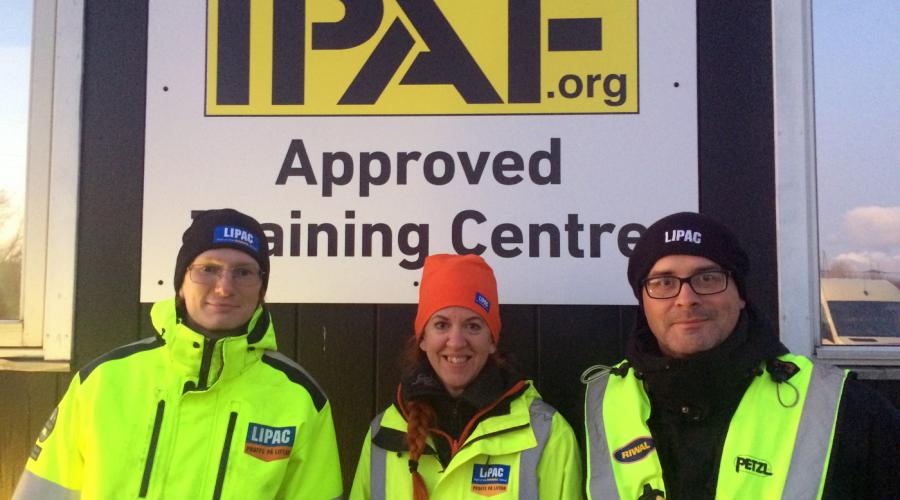 Training developed by the International Powered Access Federation (IPAF) has been translated into Swedish for the first time, to meet booming demand for trained MEWP operators across the Nordic & Baltic region.
All IPAF Instructor-led training materials have been translated to Swedish and the course is now available through all IPAF Training Centres in Sweden. It can also be offered by Training Centres in other countries, providing the instructor assessing the course is fluent in Swedish. 
IPAF training is currently offered across Sweden by accredited training company Lipac, with more Training Centres to follow soon. The high demand across the Nordic region for IPAF trained operators is often connected to major international contractors stipulating that all operators on site must have IPAF Powered Access Licence (PAL) Cards or be IPAF PAL+ certified. Many multinational clients are constructing data centres in the region, often using major contractors from the UK who demand the highest standards of certification and proficiency for operators on site.
As the workforce comes from all over Europe, IPAF can offer MEWP training in several different languages to suit operators in the region, and recently added both Russian and Danish to its training suite. Any IPAF Training Centre can issue IPAF eLearning for the operator theory module in any available language, though the practical assessment must only be conducted by an IPAF instructor fluent in that language.
Kent Boström, IPAF's Representative for the Nordic & Baltic Region, comments: "Since I joined IPAF in 2016, we have seen demand for training across the region build steadily each year, with a real surge in 2017 when it was announced Facebook would be constructing a data centre near Odense, Denmark. The lead contractor on that project was MACE, which stipulated IPAF training for all operators of MEWPs on site.
"I believe that one important factor why major multinational contractors require IPAF Training is that the PAL Card training is certified to the ISO18878 standard, and is audited to be completely consistent wherever in the world it is delivered.
"Training to this standard has not been available in Sweden before, as the domestic alternative only claims to follow the standard, without any certification to underpin that claim. Until now operators could train in Danish or English, but not Swedish, so it is great news operators wishing to become certified in their main language can now do so in Sweden. Despite the pandemic, IPAF's training numbers have increased steadily in the Nordic and Baltic region, so we hope this new language will further enhance both the appeal and take-of IPAF training and help keep our workforces safe.
"IPAF took an active part in developing the ISO standard, and continues to be active in the development, implementation and ongoing review of the standard. I believe this demonstrates the level of IPAF's competency in developing and delivering MEWP training worldwide, and it has certainly appealed to major contractors and training companies here in Sweden and across the wider region.
"With more than 2 million IPAF PAL Cards delivered worldwide, and around 800,000 valid cards currently in circulation, it is clearly the world's most recognised quality MEWP operator training programme."
Katarina Jacobson, Training Manager at Lipac Liftar AB, adds: "We see a clear need for MEWP training, especially from contractors working on the various data centres being built in Sweden. Being able to offer ISO-certified training in Swedish is good news for us, as many people prefer to complete a course in their own language. We now look forward to being able to reach even more MEWP operators."
● To quickly and easily verify an IPAF PAL Card online visit www.ipaf.org/checkpal; to find out more about IPAF's globally recognised training programme or find an IPAF Training Centre near you, please see www.ipaf.org/training
Other news you might be interested in