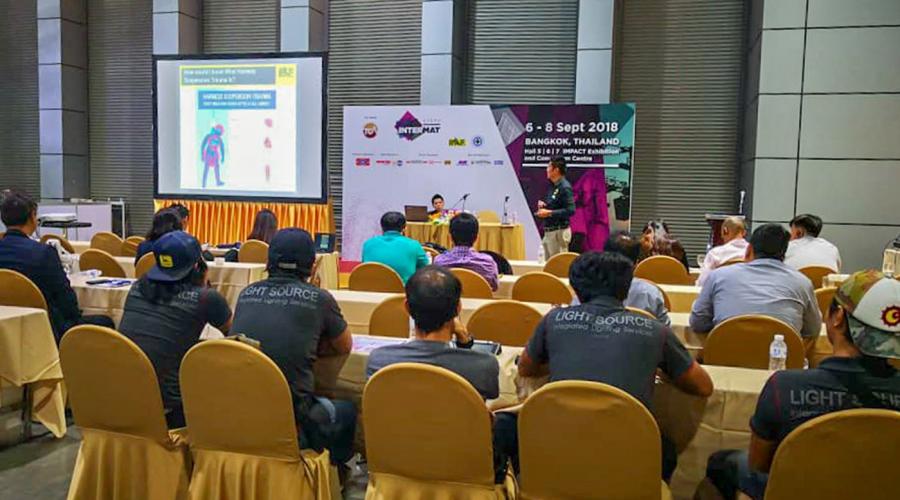 The International Powered Access Federation (IPAF) has hosted the inaugural IPAF Thailand Seminar, which took place on 6 Sept 2018, in conjunction with INTERMAT ASEAN at Impact Exhibition and Convention Centre, Muang Thong Thani.
The event was hosted just a few weeks after the best-attended edition of the IPAF Asia Conference & Showcase in Kuala Lumpur, Malaysia, which saw almost 400 delegates in attendance, building on growing engagement with IPAF and its activities in the SEA region. The IPAF Thailand Seminar attracted more than 60 to hear a line-up of speakers give their insights into the powered access rental market in Thailand and wider South-East Asia.
Speakers included Michael Tong from JLG Oshkosh, Shawn Ong of Galmon Ltd, Kang Han Fei of Aerial Lift & Equipment, Sharon Foong of Terex Genie, Santi Poolsawad from 3M and Kwankamol Duangjun of Asia5 Co, with contributions from both Raymond Wat, IPAF Regional General Manager for South East Asia, and Amanda Tan, IPAF's Regional Executive.
Raymond Wat comments: "This was a very encouraging first Thailand Seminar, and builds on growing interest and engagement across the whole South East Asia region and China in IPAF and its activities.
"We'd like to thank all of the speakers for delivering a very enlightening programme and of course the event was only made possible by our generous sponsors and the event host of the IPAF Pavilion INTERMAT ASEAN.
"Our key sponsors for the showcase were Aver Asia (Thai) Ltd, TVH Parts, Galmon Pte Ltd and the Shandong Chufeng Heavy Industry Machinery Group. We're also very grateful for all the delegates who took time to join us and to make this seminar a success; we hope this will become a regular engagement in IPAF's events calendar."
Other news you might be interested in