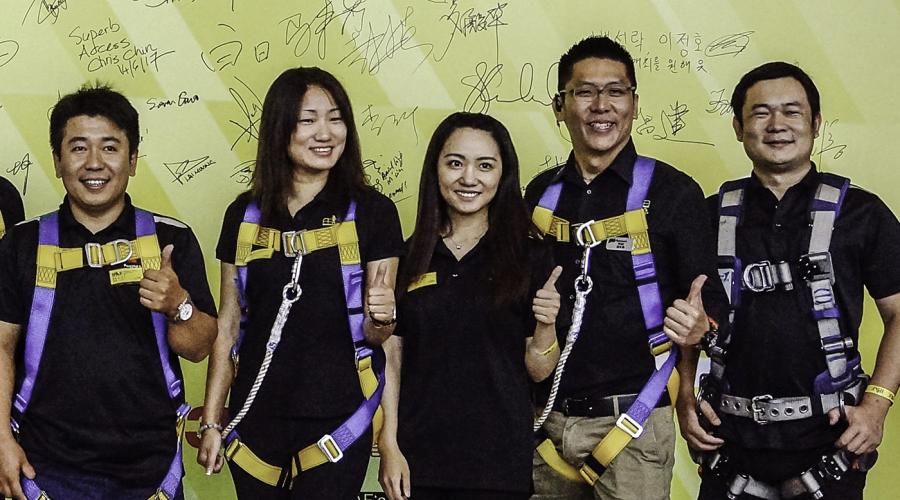 Leading manufacturers have committed to a pledge to help ensure that all operators of boom-type mobile elevating work platforms (MEWPs) wear a full-body harness and correct lanyard at a special signing hosted by the International Powered Access Federation (IPAF) on 5 September during the BICES event in Beijing, China.
The harness pledge signing took place on IPAF's stand, and the manufacturers that signed the pledge, which renews and reinforces a mass pledge signed at the IPAF Asia Conference & Showcase 2017 in Changsha, China, included Sinoboom, DingLi, JLG, Terex Genie, Haulotte, Zoomlion, Sany, LGMG, JiangHe and Shandong Chufeng.
BaiRi, IPAF's China Representative, comments: "Already we have the support of IPAF members in making the correct type of full-body harness and adjustable fall-restraint lanyard available to all operators of boom-type MEWPs in China and the wider region. The pledge is a renewal of that commitment and to ensure operators are properly trained and understand the importance of wearing a harness and lanyard at all times and in the correct way.
"It is important all operators and occupants of boom-type platforms wear a harness and lanyard as per the guidance in IPAF's global H1: Fall protection in MEWPs technical guidance, which has been recently updated and is available in multiple languages, including English and simplified Chinese.
"This is important to prevent occupants falling from boom-type MEWPs, which according to IPAF's global accident reporting and analysis via www.ipaf.org/accident is still one of the leading causes of serious injuries and fatalities when using MEWPs.
"A harness and lanyard should be worn to protect against the catapult effect, where occupants are ejected from the platform while driving, loading or unloading the MEWP, where the MEWP is snagged on an object or structure, or when the MEWP is struck by another machine or road vehicle.
"We must as an industry strive to reduce and eradicate these common causes of accidents when using MEWPs, and wearing the correct harness and fall-restraint lanyard in all boom-type platforms is key to this."
Other news you might be interested in