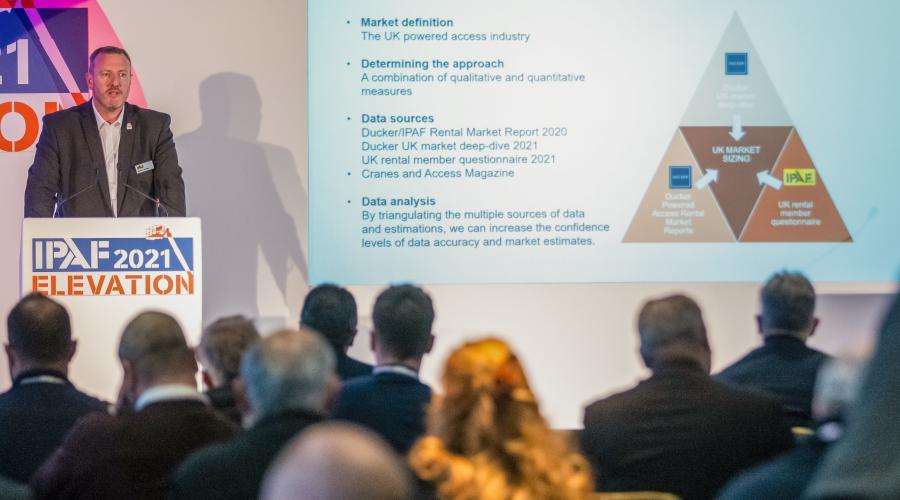 Leading participants in the UK powered access rental industry, including equipment manufacturers, suppliers and distributors, rental and supply-chain companies, are advised to utilise two new reports that have recently been published by the International Powered Access Federation's (IPAF).
Richard Whiting, IPAF's UK Market General Manager, launched IPAF's UK Market Sizing Report at the IPAF Elevation 2021 event at Whittlebury Hall Hotel near Silverstone, Northants, on 18 November. The report is effectively an overview or snapshot of the powered access market in the UK in Q4 2021, focusing specifically on traditional MEWPs (over 3m) and low-level access machines, and it is now available exclusively for members to review or download free of charge from the IPAF website.
The report demonstrates that the UK market is building back strongly after the pandemic, with none of the main market players surveyed saying that they expect reduced investment, adopted as a countermeasure to the pandemic in 2020 and early 2021 to continue in 2022 and beyond. The report also estimated that the share of the UK market that are IPAF members stands at around 82%.
Peter Douglas, CEO & MD of IPAF, also reminded attendees of the IPAF Elevation event that the IPAF Global Powered Access Rental Market Report 2021, exclusively compiled by global research and business insight specialists Ducker, is now available to buy, and that companies should at the very least purchase the UK country report, available at a discounted rate for IPAF members. The report shows that the pandemic has not left permanent scarring or caused companies to shed staff and reduce fleet size significantly in the UK, and that the overall drop in revenue was less drastic than expected and forecasted in last year's edition of the report.
The report indicates that the UK (-10%) suffered a double-digit contraction in rental market revenue across 2020, owing to the impact of the pandemic and sustained national lockdowns, coupled with other underlying factors contributing to economic uncertainty, including the ongoing impacts of Brexit on Anglo-European relations. However, outlooks for 2021 show that those countries like the UK that were hit hardest during 2020 are rebounding most strongly, after construction and wider society opened up again and the UK's economic recovery looks to be sustained, despite supply chain issues and fears over rising inflationary pressures.
Peter Douglas comments: "Both the UK Market Sizing report, and the IPAF Powered Access Rental Report that it is in part based on, are valuable insights for any company looking to do business into the UK, and we urge you to consider investing the time to review these reports, especially if you are engaged in strategic planning for 2022 and beyond. Both are pretty much unique snapshots of where the UK powered access market is at as we emerge from the worst effects of the pandemic, and to my mind should be considered essential reading."
● The IPAF UK Market Sizing report can be reviewed and download free of charge here. For a more detailed analysis of European, US, Chinese and Middle Eastern markets, the 2021 and 2020 IPAF Global Powered Access Rental Market reports are available to buy now at www.ipaf.org/reports; a discount on the purchase price is available to IPAF members, and reports can be bought as one of a number of packages, from individual country reports up to the Global Report and all country reports combined.
Other news you might be interested in