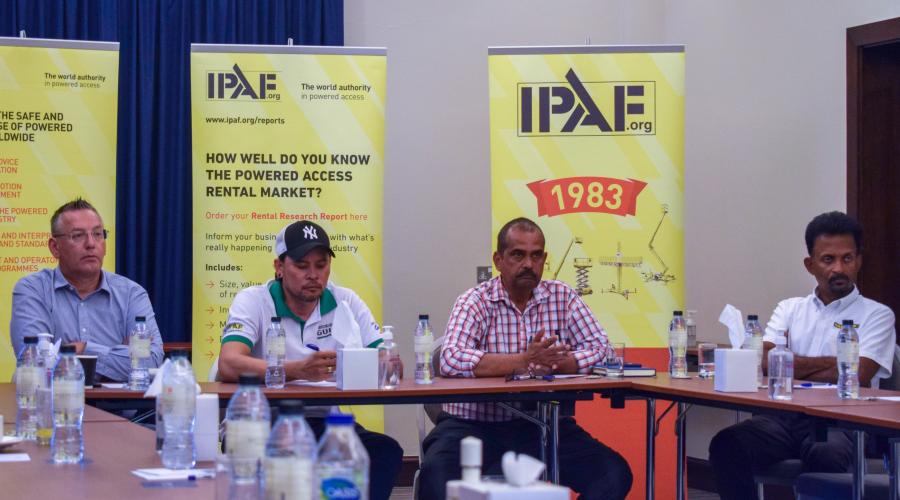 Equipment rental companies looking to market quality service, professionalism, and safety to contractors working in major construction, infrastructure, aviation, and oil and gas across the Middle East have been introduced to the International Powered Access Federation (IPAF) Rental+ scheme with a special presentation hosted at the Copthorne Lakeview Hotel in Dubai Investment Park.
IPAF Rental+ is a certification that ensures members meet and maintain the highest standards of training, equipment inventory and customer satisfaction. It is audited annually and the expansion into territories including across the Gulf Co-operation Council (GCC) area and in the Republic of Ireland marks IPAF's drive to fully internationalise the scheme.
Rental companies from the Middle East and India were welcomed to the complimentary event marking the official launch of IPAF Rental+ scheme across these additional territories by Peter Douglas, IPAF's CEO and Managing Director, Martin Wraith, IPAF Rental+ Scheme Manager, and Jason Woods, IPAF's Regional Manager for the Middle East and South Asia.
Jason Woods says: "We organised this event to raise awareness about the multiple benefits of IPAF Rental+ to both rental companies and their clients. As we know from experience, contractors perceive quality service, professionalism and robust safety standards as a huge advantage when it comes to choosing where they hire their plant and powered access equipment.
"IPAF Rental+ inspires confidence in a powered access supplier, on which it confers minimum standards in terms of safety, training and customer service delivery. When it comes to cross-hiring, IPAF members can also utilise the scheme to ensure that those additional suppliers and sub-contractors are also adhering to the same standards and levels of service their customers expect of them as fellow members of the scheme."
Aspects related to standards and legislation were covered by Martin Wraith, who broke the overall scheme down into distinct sections to demonstrate the benefits in terms of compliance and peace of mind for managers of companies becoming certified to the IPAF Rental+ scheme.
He says: "This scheme has been developed by IPAF's members. They are industry experts – people who truly understand powered access. The audit is not onerous, and our team is there to help guide companies through the process of becoming certified, at the end of which the rental company can demonstrate it has met a benchmark of quality that it can use to market itself to new and existing customers.
"The scheme also has the benefit of giving reassurance to mangers and company owners that they have covered every base and ticked every box in ensuring legal and standards compliance, safety and training considerations – everything they need to run a successful and safe powered access rental business anywhere in the world!
"After visiting various rental companies during my visit, it is clear that IPAF rental members in the region are committed to promoting the safe use of powered access and IPAF Rental+ helps members demonstrate this to contractors and end users."
Peter Douglas, CEO & MD of IPAF, adds: "IPAF Rental+ is a badge of professionalism across the powered access industry; I am pleased to say that during 2022, all of IPAF's UK hire company members achieved the IPAF Rental+ standard, as mandated by the IPAF UK Country Council in 2017 – now as an organisation we turn our attention to internationalising the standard with events like this one here in Dubai.
"So far, we have raised awareness of the benefits the scheme among our membership the Middle East and Ireland, and there is certainly interest in the scheme in India and Germany. We hope those of our members that attended enjoyed this launch event and that they are now eager to engage with the IPAF Rental+ scheme and become pioneers leading the way in their country or region."
● IPAF Rental+ is the powered access industry's guarantee of a high-quality rental company. It's proof that a rental company has been independently audited and meets rigorous health & safety, quality, and environmental standards, and a mechanism for continual business improvement. Visit www.ipaf.org/rental for information, to find an IPAF Rental+ certified company or details of how to become IPAF Rental+ certified.
Other news you might be interested in