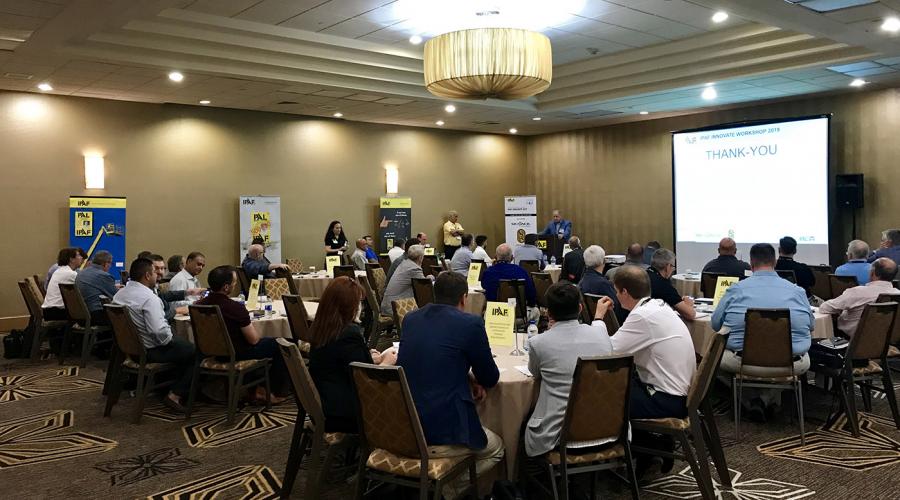 Attendees from all levels of the powered access industry participated in small work groups at the second annual International Powered Access Federation (IPAF) Innovate workshop, presentation & award in Chicago, IL, which benefitted from a change in location and date from 2018's inaugural event, held in Houston, TX, last October.
Industry thought-leaders led topic-specific work groups at Innovate 2019, held at the Sheraton Suites Chicago O'Hare on July 16-17. This open-forum workshop event was held for the first time in 2018. It brings together stakeholders from across the powered access industry to participate in collaborative groups to tackle key challenges in the afternoon of the first day, with presentations and awards on the morning of the second.
Organizers were pleased that this second edition of the event attracted both new and returning attendees; all agreed that Chicago should be the event's location for the next two years at least, to maximize accessibility for those wishing to participate wherever they're from in North America or further afield. The 2019 attendees were predominantly from the US or Canada, with a few traveling from Mexico and Europe to participate.
This year's edition saw similar numbers of attendees to last year, ideally suited to populate the ten different topic-based workshop roundtables. The format builds lasting networks and relationships across all levels of the industry, from delivery drivers and operators, managers and supervisors, to safety representatives and employees of equipment manufacturers, dealers and distributors.
Work groups considered ten topics: Recognizing & avoiding electrocution; qualified service technicians; preventing MEWP tip-overs; MEWP familiarization; OEM compliant inspections; selecting the proper MEWP equipment; innovation – how can it improve our industry?; preventing workers falling from an elevated MEWP; are all persons trained/qualified before operating a MEWP?; and supervisory training requirements.
Following the presentations in morning of the second day, participants voted that the most interesting solutions were suggested by the group considering "Are all persons trained/qualified?", facilitated by IPAF Council member Forrest Hester. The group proposed that there is no single solution to ensure all operators are trained, but a combination of technology such as telematics and access controls could be deployed to ensure untrained or unauthorized personnel cannot access or use equipment on which they are not trained and familiarized.
Participants were also able to try a series of "Innovation Stations" on the first day. Provided by event partner United Academy, these sophisticated Serious Labs simulators showcased a virtual reality (VR) version of MEWP operation in various work site conditions. IPAF's PAL+ advanced operator assessment in VR was also introduced, allowing candidates to experience the challenges of operation in a difficult work environment without risk of harm. PAL + is offered to persons who hold a PAL Card and will be delivered by IPAF-approved Training Centers.
Immediately following the event, IPAF's North America Regional Council and organizers met to discuss the workshops' findings, adopt ideas and solutions to take forward in the industry at large and discuss the format for the 2020 edition of the event, which it was agreed would be held again in Chicago, though in May rather than July.
Tony Groat, IPAF's North America Regional Manager, says: "It was pleasing that returning participants were bolstered by those attending for the first time. Around 60-70 attendees is an ideal number, allowing 5-7 participants per workshop; we are now looking at ways to increase capacity and attendance slightly in 2020 without changing the quality of experience for participants or the event results.
"Hosting the event in Chicago allows people to travel easily from any point in North America; it was pleasing this year we had several attendees from outside North America taking part. We will now be preparing a white paper based on each group's findings, selecting topics that will be carried forward into next year's event that need more work, while implementing some of the recommendations of this year's groups.
"We hope attendees and new faces will be able to join our IPAF CatchUP event on September 11 in San Diego, CA, to coincide with the ALH Conference & Awards the following day. There will be a mini conference in the afternoon and the opportunity for attendees to register for a new IPAF MEWP supervisor training course in the morning.
"In the evening of September 11 there will be a chance to join IPAF for one of its famed networking events, for a Padres-Cubs game at Petco Park. Seats will be strictly limited, so register early to secure your place! The next day there will be a presentation at the ALH Conference program on the results of Innovate 2019."
For more on IPAF's Innovate 2019 see www.ipaf.org/Innovate; for all upcoming IPAF events and meetings please visit www.ipaf.org/events
Other news you might be interested in