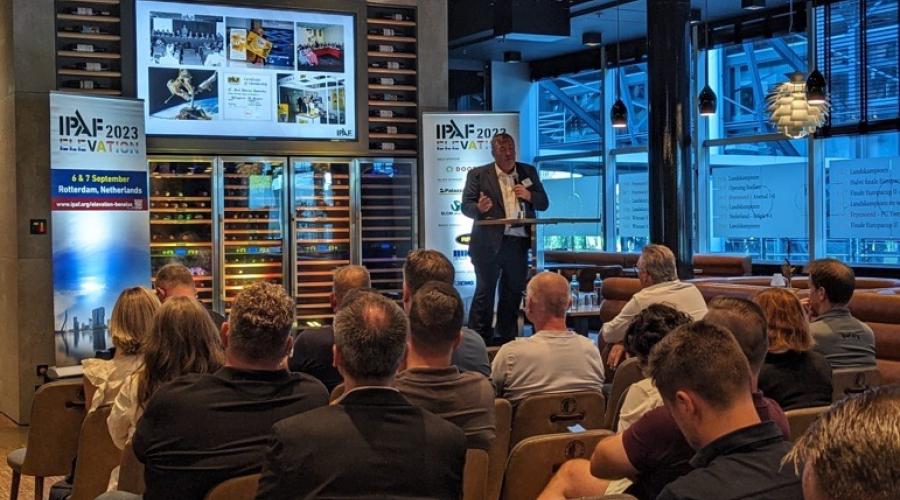 Harnessing the power of AI, embracing workplace diversity and training the next generation of technicians were key topics on the agenda as the International Powered Access Federation (IPAF) hosted its Elevation Benelux event in Rotterdam. 
More than 70 guests attended the two-day gathering for members of industry, aimed at building connections, sharing best practice and generating opportunities for personal and business development. 
Welcoming delegates to IPAF Elevation Benelux, CEO and Managing Director, Peter Douglas highlighted IPAF's key achievements in the federation's 40th anniversary year. 
He said: "2022 was a record year for membership growth, an increase of 245 members worldwide, a net growth of 133, and our regional development team has grown to support these members. I am pleased to say our training numbers are also following this positive pattern, with now over 50,000 people being trained in Benelux through the IPAF training programme." 
IPAF President and Dinolift Managing Director, Karin Nars delivered a session on 'Women in Powered Access' urging delegates to develop a strong culture of equality, diversity and inclusion (EDI) within the industry. 
She told delegates: "Bring EDI to your boardrooms, talk to young people entering their working life, ask what their expectations are. Take concrete actions, measure, make the development and progress visible. It's an ongoing project for everyone, in our daily jobs. We need to all contribute in a meaningful way." 
The need to foster a diverse workforce was echoed by IPAF's Director of Operations Giles Councell and Stefan Beke, Coordinator Technical Trainings of TVH PARTS NV, who briefed delegates on the IPAF Technician Roadmap, created to provide a clear guide for training the next generation of technicians. 
Two talks by leaders from manufacturers focused on the future of the industry and the opportunities presented by technological developments. 
Jacco de Kluijver, Vice-President of Global Business Development for Terex Global, and IPAF Board Member hosted a talk entitled 'Tomorrow Starts Today'. The session focused on the need to embrace emerging technologies of AI and robotics in order to remain competitive and ensure quality and safety standards are maintained. 
Jacco said: "It makes no sense to ignore it. We need to cooperate to make sure we invent new technologies and don't get caught out by changes. It's up to us to advise on standards, cooperate and align." 
The importance of planning ahead for technological developments was reiterated by Jim Waldron, Director of Product Safety at Skyjack, in a seminar exploring the drivers for change in the industry. 
He said: "The future of technology is growing fast, faster than we can track, but it needs infrastructure to exist in and a business model that understands it. With technologies becoming increasingly more complex, only in partnership can we truly exploit their potential." 
The two-day event on 6 and 7 September was supported by headline sponsors Doornbos Equipment B.V and XCMG who sponsored the networking drinks reception. Thanks go to other sponsors Palazzani, Holland Lift, Blom Opleidingen, Sinoboom, Riwal, Euro Supply and Genie. The event also featured a number of social and networking opportunities, including an informal dinner to close the first day. 
IPAF Board and Council meetings took place during the event, providing an opportunity for delegates to build connections with key industry leaders. 
Guests also enjoyed the opportunity to tour the host venue Feyenoord Stadium, home of Rotterdam's Feyenoord Football Club.  
IPAF Benelux Representative, Jur Kamsteeg said: "IPAF Elevation Benelux was a celebration of everything that is good in our industry and the successes of IPAF in the region. It was also an excellent chance to look to the future and think about how we can continue to develop and thrive through collaboration."  
Other news you might be interested in