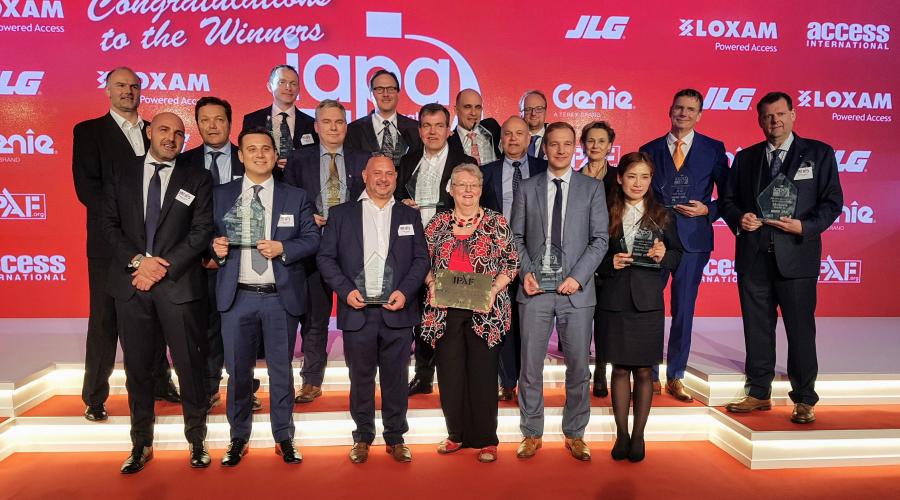 The shortlisted entrants to the 2020 International Awards for Powered Access (IAPAs) have been confirmed. A record 130 entries to the awards were received, with the judges having met earlier this month in London to select their favorite entries in each award category. The winners will be announced at the presentation dinner held on the same day as the International Powered Access Federation (IPAF) Summit, in London, UK, on 23 April 2020.
Euan Youdale, editor of Access International and non-voting chair of the judges, comments: "There was an incredible response from the industry to the IAPAs this year, with a record 130 entries. The quality of the entries was also very high across the board, making a challenging decision process for the judging panel, made up of five highly experienced powered access industry experts.
"The IAPAs organizers would like to thank the judges for their efforts in carefully considering all the entries and to all those companies and individuals who entered. If you did not make it on to the shortlist this year, please try again next year."
This year's IAPAs celebration dinner takes place at the Millennium Gloucester Hotel Kensington, on 23 April, with the event set to be a sell-out with more than 400 attendees. There are 12 award categories this year, ranging from new products and innovations to safety and training. The full shortlist is as follows:
Access Rental Company of the Year
•           Advance Access Platforms, UK
•           AFI, UK/Middle East
•           Mateco, Belgium
•           Shanghai Horizon, China
•           Star Platforms, UK
Digital Development Award
•           AST – digital safety logbook
•           Genie – Lift Connect
•           RCB – digital solutions
•           Riwal – digital initiatives
The IAPA innovative technology prize
•           Dingli – boom design
•           Hinowa – TeleCrawler13
•           JLG – mobile control app
•           Ruthmann – Ampero TBR 250 E
Contribution to safe working at height
•           EIDE – Embragatges i Derivats – manual release centrifugal brake (DBQ)
•           Genie – Super-sized platform
•           Outriggerpads – online outrigger pad calculator
•           Serious Labs – PAL+ training program
Product of the year – Mast-climbing work platforms/hoists
•           Alimak – MC 650
•           Hydro Mobile – S Series Transport platform
•           Maber Hoist – Liftshaft Hoist MBA800/150-SRV
•           Scanclimber – Heavy Duty (MCWP- HD)
•           XL Industries – XE5 Top-down Hoist
Product of the year – Scissor lifts & vertical mast platforms
•           Dingli – JCPT1612DCB
•           Faraone – Elevah 75 Tyres
•           Genie – Global Spec GS Scissor
•           Imer – IM 17220 E
•           JLG – DSP-M
•           Snorkel – S3019E
Product of the year – Self-propelled booms & atrium lifts
•           Genie Z-45 FE Boom
•           JLG – EC articulating booms
•           Manitou – 200 ATJE
•           Niftylft – HR17NE
•           Platform Basket – Spider 43T
•           Teupen – Leo35Tplus
Product of the year – Vehicle-mounted platforms
•           Oil & Steel – Snake 147
•           Ruthmann – Steiger TB 300
•           Socage – ForSte 37DJ Speed
•           Versalift – VTL-120
IPAF Training Centre of the year
•           AMP Sales & Services, USA
•           AST, Germany
•           Kompetenzzentrum für Arbeitssicherheit, Switzerland
•           Korea Rental Corporation, South Korea
IPAF Training Instructor of the Year
•           Andrew Williams – UTN Training
•           Richard Abercrombie – Openreach
•           Utah Koch – Arbeitsbühnen Koch
•           Young Chun Cho – Korea Training Corporation
Photograph of the Year
The Access Photograph of the Year Award has a new sponsor this year, UK rental company Media Access Solutions (MAS), which took over the award from former sponsor Facelift, which was acquired by AFI group last year. This category has no shortlist and is announced on the night with the other winners.
To find out more about the next IPAF Summit & IAPAs, including the full list of award nominees, further announcements about confirmed speakers, powered access site visits and to book one of the last few remaining places, visit www.iapa-summit.info
Other news you might be interested in