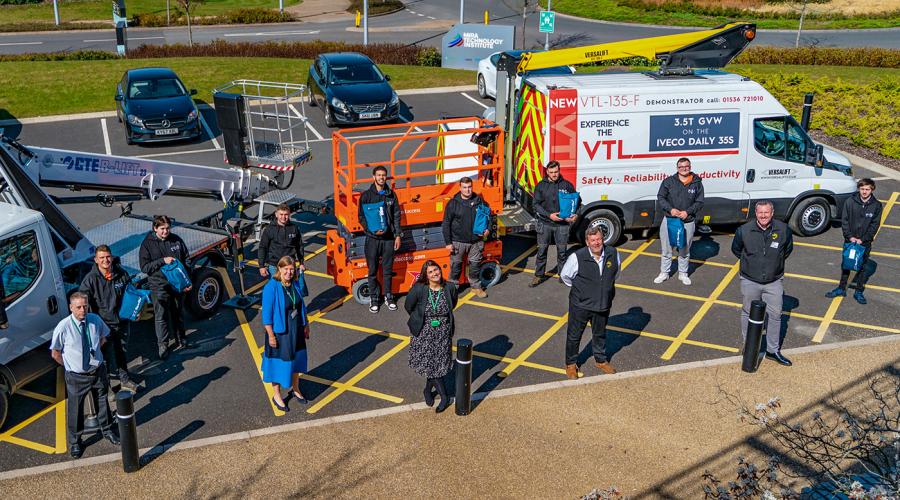 The first wave of apprentices on a new route to certifying specialist MEWP technicians have been celebrated by representatives of the International Powered Access Federation (IPAF) as they embarked on their studies at North Warwickshire & South Leicestershire College (NWSLC).  
The Level 3 Lift Truck and Powered Access Technician apprenticeship forms part of IPAF's Roadmap to Qualified MEWP Technician or Engineer Status, which meets growing demand in the hire and maintenance industry. The first intake of eight apprentices was confirmed earlier this year, and a special welcome ceremony was organised for the first batch of apprentices on their first day at the college. 
Richard Whiting, IPAF's UK & Ireland Market General Manager, joined Peter Douglas, IPAF's CEO & MD, and senior college officials to wish the new apprentices well and to recognise their pioneering role as the first entrants to the three-year course, which will include a total of ten weeks per year studying at the NWSLC campus. 
The first intake was made of eight apprentice engineers from Access Engineering, Versalift, Mainline Group, 1 Up Access, Horizon Platforms, CTE UK Ltd, Southern Platforms and GT Access. IPAF was heavily involved in developing the new pathway, approved and grant funded by the Institute for Apprenticeships.  
Peter Douglas says: "It's fantastic to meet these apprentices just starting out on their road to become fully qualified engineers specialising in MEWPs; this is something our industry has been crying out for for a long time and is an excellent step both to recognising and certifying existing talent and attracting bright new people into a career in powered access.  
"I'd like to compliment North Warwickshire & South Leicestershire College in rolling out provision to support these apprenticeship places; already the next two cohorts of apprenticeships to begin in autumn of this year seem on course to be fully subscribed."  
Richard Whiting, who led on developing the IPAF Roadmap, comments: "We congratulate this first cohort of apprentices and wish them every success over the next three years and beyond. IPAF is pleased to provide each apprentice with a branded rucksack, hoody and other IPAF merchandise as a little good-luck gesture. The past year has been so difficult for many reasons, so we hope that this is a real sign of optimism for a brighter future ahead for them and for our wider industry.  
"We'd also like to offer our thanks to all IPAF members supporting the launch, including: Spanset, which provided a free harness and lanyard to each apprentice; Speedy Powered Access, which provided a Dingli scissorlift; CTE (UK) Ltd for providing 3.5t truck-mounted MEWP; Versalift, which provided a VTL van-mounted MEWP; and others including Niftylift, Skyjack and GT Access, which all donated equipment for apprentices to learn on. We welcome any offers of spare kit in good working order that could be donated to the college to support apprentice learning. 
"In terms of the apprenticeship itself, it is already proving very popular: Two further intakes are planned for Q4 2021, which means there are more than 30 apprentices already in pipeline. It is looking like these next two planned cohorts are already over-subscribed. It's great to see this support from members, we urge anyone still thinking about placing apprentices with the college to register your interest without delay."  
Katy Urwin, Director for Apprenticeships at NWSLC, says: "We are delighted to mark the launch of this new apprenticeship standard, which is critically important to the mechanical handling industry and marks a step-change in the type and quality of skills delivery that businesses can expect. The apprenticeship has been specifically designed in collaboration with employers in the powered access space and we are delighted to be one of the first colleges in the UK to roll it out from today. 
"There has never been a better time to invest in apprenticeships, as organisations currently benefit from grants of up to £4,000 for training an apprentice. Employers that take on an apprentice of any age by September 2021 will benefit from a £3,000 payment in addition to the £1,000 already provided for organisations that recruit apprentices aged 16 to 18, or those aged under 25 with an Education, Health and Care Plan.  
"The Lift Truck and Powered Access Apprenticeship is designed for engineers at all stages of their skills development and the college is on hand to help with recruitment to vacancies in this area. Through its launch, we hope to introduce skilled and work-ready individuals to businesses across the UK." 
● Click the link for more information about the Level 3 Lift Truck and Powered Access Technician apprenticeship at North Warwickshire & South Leicestershire College. If you have questions about becoming a training provider of the new apprenticeship please email Richard.Whiting@ipaf.org for more information.  
Other news you might be interested in