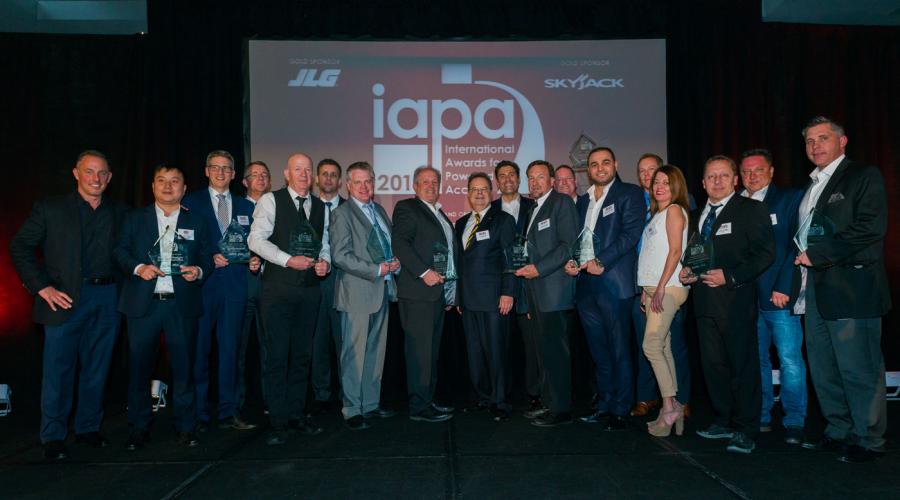 Around 300 industry professionals gathered on 8 March 2018 in Miami, USA, to honor the winners of the International Awards for Powered Access (IAPAs). Jointly organis=zed by Access International and IPAF, the IAPAs celebrate best practice and excellence in the powered access industry.
Those assembled at the Hilton Miami Downtown were also the first to learn that the next edition of the awards ceremony will be held in Dubai, UAE. The 2018 IAPA winners, and judges' comments, were as follows:
Access Rental Company of the Year
UNITED RENTALS, US
In 2017 United really delivered: It managed two significant acquisitions, reported record utilization rates, and demonstrated a commitment to training with the United Academy.
Powered Access Pioneer
SHANGHAI HORIZON EQUIPMENT & ENGINEERING, CHINA
This was another competitive category, but Horizon won us over with its strong growth record, lean management style and commitment to customer service.
Contribution to Safe Working at Height
HAULOTTE, France, for its ACTIV'Lighting System
So simple, but very effective. A great aid to the safe loading and unloading of machines.
Product of the Year – Mast Climbing Work Platforms/Hoists
SCANCLIMBER, Finland, for its Counter Balanced Extension system for MCWPs
One of the most innovative Mast Climbing Work Platform products we have seen, and extending the possible applications for several of the company's existing products.
Product of the Year – Scissor Lifts and Vertical Masts
HEMATEC ARBEITSBÜHNEN, Germany, for its Helix 1205 mast boom
The platform's compact design and electro-hydraulic drive makes it a truly versatile MEWP.
Product of the Year – Self-propelled Booms & Atrium Lifts
NIFTYLIFT, UK, for its self-propelled HR21 4x4 (Mark II)
The judges were impressed with the overall package; the platform's low weight and hybrid power system, which gives extended duty cycles and significant reductions in fuel use.
Product of the Year – Vehicle/trailer-mounted
RUTHMANN, Germany, for its T650 HF
This is a special machine, with basket rotation, a compact design and a remarkable outreach of 43 meters.
Project of the Year
UP MAKINE, TURKEY, for its work on the NEW ISTANBUL AIRPORT
It's an impressive project, with Up Makine providing machines to work 24/7 on three terminal buildings.
Innovative Technology
CONTROL DYNAMICS, US, for its PIRANHA LOX SYSTEM INTERLOCK HARNESS
This is about safety, safety and safety! It represents a step forward in controlling access to machines and making working at height safer. A system that ensures harnesses are used.
IPAF Training Centre of the Year
A-PLANT, UK
A-Plant had an outstanding year for training in 2017, with very positive course evaluations. The company provides safety information for free, which says a lot about its ethos.
IPAF Training Instructor of the Year
 PETER WALLACE of NIS Training in the UK
Peter is an independent instructor and demonstrated outstanding work. He has a great approach to engaging with candidates and always shows a very positive attitude.
Access Photograph of the Year (sponsored by Facelift)
NEIL LAWRENCE, ORION PLATFORMS, for his picture of St Margaret's Church, City of London, UK
Neil is Hire Desk Manager for Orion Platforms in the UK, and captured this image of a Palfinger WT450, 45m truck mount with 28m of outreach and a 600kg basket payload, which Orion supplied to the National Trust to inspect all the lead work on the spire of the Sir Christopher Wren-designed church.
IPAF/Access International Lifetime Achievement Award
DAN KAPLAN, US, international rental consultant and author
An internationally renowned expert on the rental industry since establishing his own consultancy in 1997, Dan Kaplan spent 15 years as president of Hertz Equipment Rental Corporation, during which time he grew sales from $58 million to over $500 million and expanded from 55 domestic locations to 140 locations worldwide.
In his years as a consultant he has worked with rental companies all over the world, helping them with their strategies and performing operational reviews of more than 2000 rental locations. He is regularly consulted by financial institutions and equipment manufacturers. His book, Service Success, published in 1994, has become a bible for anyone interested in the rental business.
His expertise has long been recognized in the industry. In 2006 he was inducted into the American Rental Association's Hall of Fame, and in 2013 was presented with a Lifetime Achievement Award by the European Rental Association.
The independent, impartial judging panel spent a full day considering the more than 100 entries received. The judges made decisions based on the merit of each entry and were excluded from entering their company for any award. The 2018 judges were:
Chris Bowers, former Senior Vice President at NES Rentals, now retired;
Chris Carmolingo, Regional Vice President, BlueLine Rental;
Ib Steffensen, Director and Executive Board Member at BMS of Denmark;
Nick Selley, Business Development Director at AFI Group and IPAF President;
Tobias Ritzenhöfer, Director of Engineering at Teupen Maschinenbau.
Euan Youdale, Access International editor, was non-voting chair of the judging panel.
Event photographs and details of all shortlisted entrants are available at www.iapa-summit.info
Other news you might be interested in