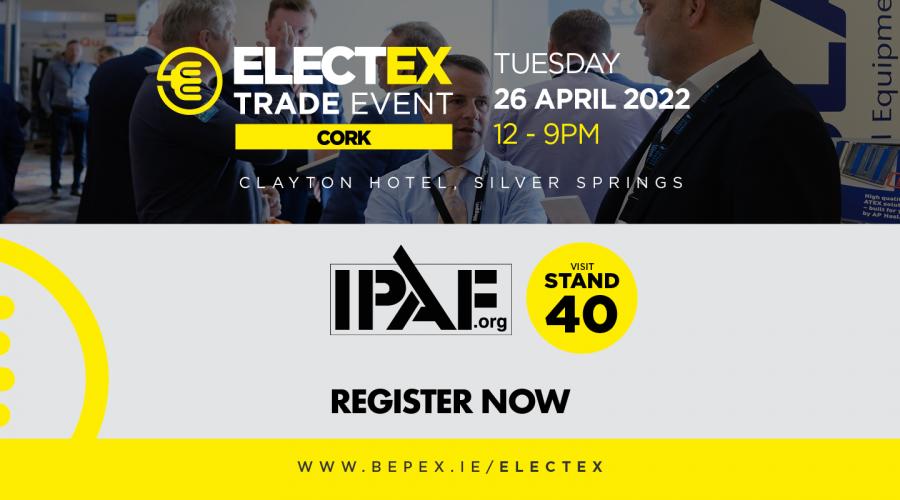 Representatives from the International Powered Access Federation (IPAF) will be at ELECTEX in Cork, Ireland, on 26 April, the first time the federation has had a standalone presence at a trade show or exhibition in the Republic. 
ELECTEX Cork is aimed at delegates working in electrical contracting and associated trades including fire and security, cabling, tools and testing, heating, lighting, smart technology and electric vehicle infrastructure. IPAF will be among the exhibitors from across all aspects of the industry and its specialist sectors at the trade show.
Richard Whiting, IPAF's UK & Ireland Market General Manager, says: "This is IPAF's first trade show in Ireland, one of several this year. It's a great opportunity to interact with attendees about the benefits of IPAF membership, training and the array of safety and technical guidance support we offer. Many people working in this industry are IPAF-trained and use our materials in support of their own health and safety processes.
"IPAF aims to reach out to contractors, operators and industry end-users that use MEWPs to conduct temporary work at height, to ensure our safety message is spread far and wide and to build engagement with relevant initiatives, including the new IPAF ePAL app for smartphones, and the benefits of using an IPAF Rental company.
"IPAF recently hosted the first in-person meeting of its Irish Council since the pandemic began, which also marked 25 years since the council was founded, at which the healthy state of the powered access industry on the island of Ireland was commended, as well as welcoming new chair David Meeke of Balloo Hire Centres to the role. Former Irish Council Chairs Julie Houston Smyth, Andrew Davin and John Ball joined in a tribute to the late Nicholas Davin, former Irish Council Chair and IPAF President."  
● Find IPAF in the foyer area of the ELECTEX Cork event at the Clayton Hotel, Silver Springs, on 26 April 2022. Please visit www.ipaf.org/events for details about all upcoming IPAF events and webinars.
Other news you might be interested in