Avoid Overhead Obstructions Toolbox Talk
Avoid Overhead Obstructions Toolbox Talk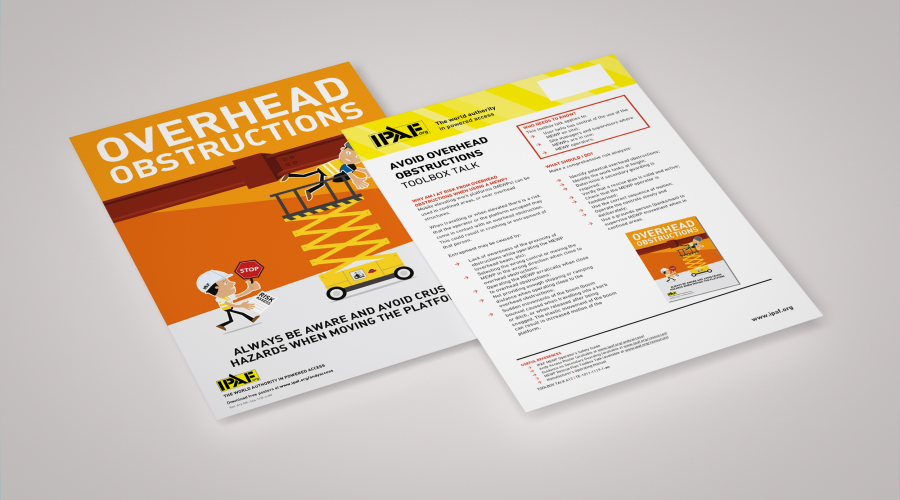 Added 31 Mar 2020
Last updated
Resource also available in:
Mobile elevating work platforms (MEWPs) can be used in confined areas, or near overhead structures. When travelling or when elevated there is a risk that the operator or the platform occupant may come in contact with an overhead obstruction.  This could result in crushing or entrapment of that person.
WHO NEEDS TO KNOW?
This toolbox talk applies to:
User (who has control of the use of the MEWP on site);
Site managers and supervisors where MEWPs are in use;
MEWP operators.
WHAT IS A TOOLBOX TALK?
Toolbox talks are short discussion sessions that allow you and your workers to explore the risks and safety issues specific to your work site. The talks should focus on a single topic. A toolbox talk should be a regular occurrence to reinforce learning and gain worker buy-in.
IPAF TOOLBOX TALKS
IPAF's toolbox talks focus on key issues when using mobile elevating work platforms (MEWPs), as well as mast climbing work platforms (MCWPs) or hoists. The talks build on the safety messages highlighted through the Andy Access campaign (www.ipaf.org/andyaccess), and these posters will form part of your briefing. It is advisable that these posters be used throughout your worksite to reinforce your safety messages.
USEFUL REFERENCES
Ref: TE-1011-0320-1-en-US