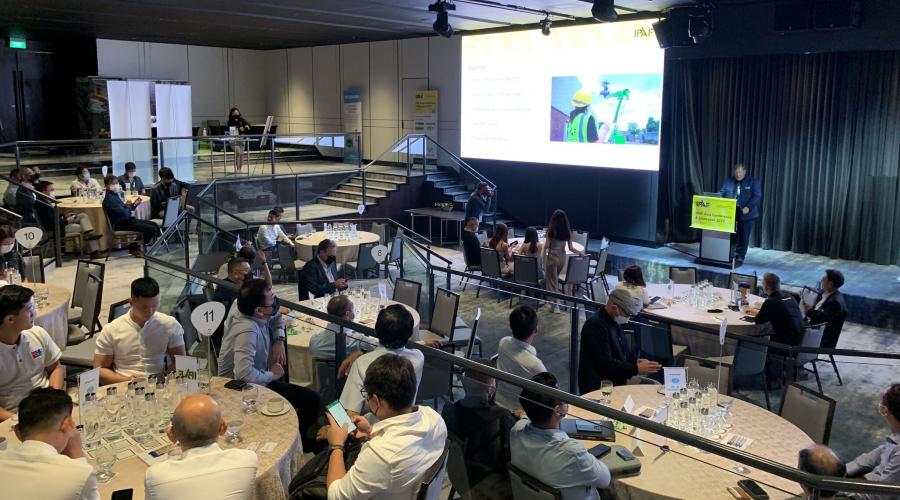 After a two-year hiatus the International Powered Access Federation (IPAF) Asia Conference & Showcase event made a successful return on 28-29 July at the Singapore EXPO & Hilton Orchard Singapore – with more than 250 physical attendees joining the first in-person edition of the event since the pandemic.
Following a successful equipment showcase on the morning of 28 July featuring MEWPs and devices from XCMG, Haulotte, Zoomlion and EQSS, the ninth Asia Conference was split over two days, with an open-forum symposium on day one at the Singapore EXPO and an IPAF members' conference on the second afternoon at the Hilton Orchard Singapore. It was a hybrid event, featuring live-streams of presentations that were also recorded for review at a later date.
The symposium speakers included: Peter Douglas, CEO & Managing Director, IPAF; Bernard Kwok, Deputy Director (Engineering Safety), Ministry of Manpower; Prof Goh Yang Miang, of the National University of Singapore; Brian Parker, Head of Safety & Technical, IPAF; Caesar Tanquingcen, Product Manager, Oshkosh-JLG; Romina Vanzi, Head of International Development & MCWPs, IPAF; Angel Ibañez, Representative for MCWPs and Related Products, IPAF; Julien Micheli, Asia Pacific Product Marketing Manager, Haulotte; Peter Lee, FP S&S Application Manager, MSA Safety (APAC); Vincent Koay, Product Manager (MEWPs), Manitou Asia; and Andrew Delahunt, Global Business Development Manager, EQSS.
The Chairman of the Workplace Safety and Health Council's (Construction and Landscape) Committee, Yam Ah Mee, was guest of honour at the event, said: "This event is a great platform to communicate with the industry the safe and effective use of powered access equipment." He highlighted that the WSH Council has worked with industry stakeholders including IPAF to develop a Guide for Safe Use of MEWPs.
Shawn Ong, IPAF Singapore Council Chairman, gave a speech, in which he discussed how falls from height had become the most common cause of fatalities in the workplace, within which human error is the main underlying factor. This prompted IPAF to launch the Don't Fall For It! global safety campaign for 2022, and he reiterated that workplace safety should not be taken for granted: "Safety is everyone's responsibility. Look out for each other and this will help ensure everyone goes home safely to their family."
The second day featured a market-focused half-day conference followed by networking dinner; with speakers including IPAF CEO Peter Douglas, Tim Whiteman, CEO of Sinoboom BV, Yanglei, General Manager of Beijing Xiangyuncheng Building Decoration Engineering, and Sharon Foong, the General Manager of Terex (Genie) Singapore.
The event followed up with a regional rental market discussion, which involved IPAF members from Malaysia, Vietnam, China, Korea, Thailand, the Philippines, and Singapore. The discussion centred on powered access technology, creative solutions for safer work at height, and the challenges the industry has experienced as the world stabilises after the pandemic.
Raymond Wat, IPAF SEA Regional General Manager, said: "We are grateful to our sponsors who made this event possible and our attendees who came to support our event. We hope you managed to learn more about safety and MEWPs. Let us strive towards preventing accidents and ensuring all workers can return home safely after working at height."
Other news you might be interested in