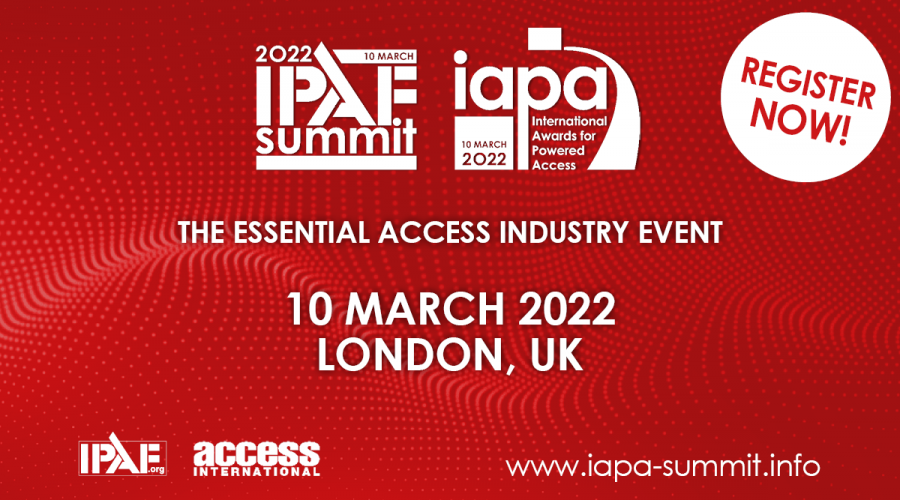 Judges for the prestigious International Awards for Powered Access (IAPAs) have been named, as the entry deadline of 1 December looms. The IAPAs will be hosted alongside next year's Summit of the International Powered Access Federation (IPAF), at the Millennium Gloucester Hotel, Kensington, London, on 10 March 2022.
With just two weeks left to enter IAPAs 2022, the industry experts who will make up the judging panel for this year's awards have been revealed as:
Nico Krekeler, Head of Design and Development at Ruthmann Holdings, and chairman of the board of directors, Ruthmann Italia;
Michel Petitjean, Secretary General of the European Rental Association (ERA);
Andy Studdert, Independent Corporate Director and Past President of IPAF, formerly CEO of NES Rentals, which was acquired by United Rentals in 2017;
Jonathan Till, Owner of the UK's largest independent access equipment rental company GTAccess, and member of the IPAF UK Country Council;
Paolo Pianigiani, Commercial Direcor, IMER Group
Euan Youdale, Editor of Access International, is non-voting chair of the judging panel.
Entries for the 13 IAPA categories, which provide opportunities for companies and individuals across the powered access sector to demonstrate their products, services and initiatives, must be received by 1 December 2021. See www.iapa-summit.info for details of each category and to download entry forms.
Among the 13 categories is a new one for 2022 – the Sustainability Award, which is open to companies that can demonstrate they have taken a leap forward in environmental engagement. This new category forms part of a trio of awards that celebrate the cutting-edge of technological and safety advancements, also including the Technology Prize and the Digital Development Award.
These are in addition to four Product of the Year categories, Contribution to Safe Working at Height and the IPAF training centre and instructor categories for association members. In addition, budding photographers are invited to enter the Photo of the Year award – sponsored once again by UK film & TV access rental company MAS.
Euan Youdale says: "Remember, companies and individuals can enter as many awards as they like. They can also enter the same product or initiative into more than one category, if relevant. Be sure to get your entries in ahead of the deadline on 1 December."
Peter Douglas, CEO of IPAF, says: "The 2021 Summit and IAPAs were held as a digital event owing to the Covid pandemic, so 2022 is a return to both the in-person format and to the UK for the first time since 2017.
"I really hope IPAF members from around the globe are looking forward to getting together in person in London next spring, and I really urge as many member firms as possible to get their IAPAs entries in; let's make this the best IAPAs ever!"
The overall theme of the IPAF Summit and the powered access site visit will be announced shortly. There will be a networking event at Illuminate at the Science Museum on the evening prior to the Summit & IAPAs, and a site visit to be confirmed shortly. Sponsorship opportunities are available at preferential rates for IPAF Members; interested parties are invited to email Bridget.Leary@khl.com.
● Please visit www.iapa-summit.info for more details about the IAPAs categories and entry forms, and to register as a delegate before the final remaining places are gone.
Other news you might be interested in