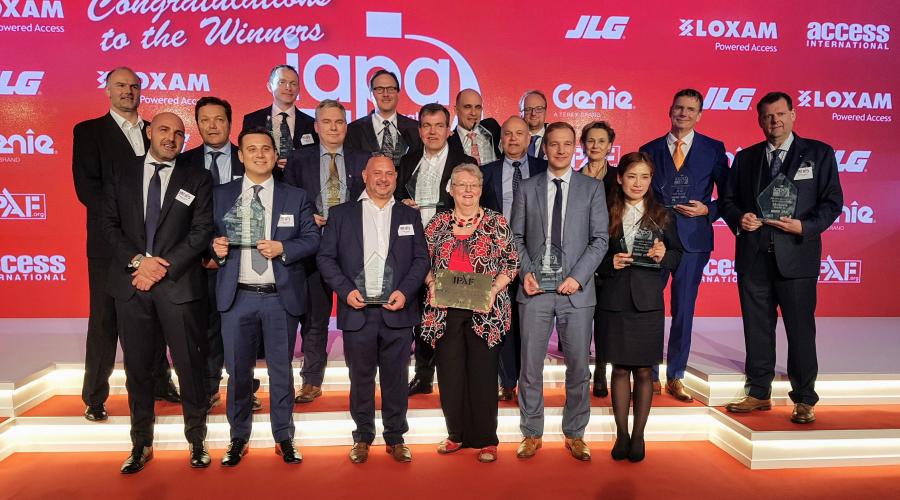 Almost 350 industry professionals gathered on 6 March 2019 in Dubai, UAE, to honor the winners of the International Awards for Powered Access (IAPAs). Jointly organized by Access International and IPAF, the IAPAs celebrate best practice and excellence in the powered access industry, and this was the first time the event was held in the Middle East. Those assembled at the Raddison Blu Deira Creek Hotel were also the first to learn the next edition of the awards ceremony will be returning to the UK for the first time since 2017 and will be held in London on 23 April 2020.
In a change to the usual proceedings, the IPAF President's Award was announced during the IAPAs ceremony, Immediate Past President Nick Selley making JEAN HARRISON, IPAF Membership Officer & Event Coordinator, his choice for her sterling contribution to the federation in a variety of roles over more than 25 years.
The awards were also tinged with sadness as those assembled remembered long-serving IPAF member, North America Regional Council member and powered access stalwart Alastair Robertson, who died following a short illness last month, while the Lifetime Achievement IAPA was awarded posthumously.
The full list of 2019 IAPA winners, and judges' comments, is as follows:
IPAF Training Instructor of the Year
CHARLIE ELLIS, Nationwide Platforms, UK
He has had a positive impact on many people and is committed to the cause of training and safety. His involvement with IPAF shows his engagement with the industry's future.
IPAF Training Centre of the Year
ALS SAFETY (RIWAL), UK
Their facilities are exceptional, and they are actively involved in developing relevant safety products.
Access Photograph of the Year (sponsored by Facelift)
SANTERI KERÄNEN, FINLAND
Santeri's fantastic photo shows technicians from Bladefence using two 104-meter Bronyo Skylift S104HLA truck mounts, belonging to rental company Janneniska, to inspect turbine blades at a height of 98 meters. The photo was taken in southern Finland.
Product of the Year – Mast Climbing Work Platforms/Hoists
ALIMAK, SWEDEN, for its Mammoth TM
This inspired product offers multiple ways to carry material and personnel and has the capacity to transport large machines and materials.
Product of the Year – Vehicle/trailer-mounted
BRONTO SKYLIFT, FINLAND, for its S35EM truck
Judges praised the platform's capability to carry out a wide range of jobs despite its compact size. It also has an impressive outreach of 29 meters.
Product of the Year – Scissor Lifts and Vertical Masts
HYBEKO, NORWAY, for its Tunnel 3390 RT scissor lift
This is a unique machine, based on a Genie GT-3390 RT scissor, but adapted for the particular demands of tunnel work. It creates a machine that helps contractors work safely and productively on challenging sites.
Product of the Year – Self-propelled Booms & Atrium Lifts
ALMAC, ITALY, for its Jibbi 1250 Evo tracked boom
The judges complimented the machine's great versatility and attention to operator safety. For a boom lift it has exceptional capability to operate on a slope.
Contribution to Safe Working at Height
PROUD2BSAFE, UK
Jason Anker, through his company Proud2bSafe, is having a major impact on how people understand safety. He makes safety feel personal.
Powered Access Pioneer
DINGLI, CHINA
Since 2005 Dingli's influence has grown worldwide. Its growth in its home market of China has placed it at the center of efforts to introduce modern access equipment, improving safety for countless workers on site.
Digital Development
JLG INDUSTRIES, US, for its BIM library
JLG has been leading the way in the creation of BIM models of mobile elevating work platforms. It offers the real prospect of benefits in productivity and safety planning.
Access Rental Company of the Year
A-PLANT, UK
A-Plant isn't just a fast-growing company with an impressive financial performance, it also has a customer and industry-focused approach and tries to make improvements to the industry as a whole.
Innovative Technology
SKYJACK, CANADA, for its Elevate On App
This mobile phone App is part of Skyjack's Elevate package and provides operators with a paperless working environment on site and is making a real difference for equipment users.
IPAF/Access International Lifetime Achievement Award
JOHN L GROVE, US, cranes and access pioneer
Tim Whiteman, CEO & MD of IPAF, spoke about this award recipient ahead of the awards ceremony proper getting underway, saying: "The Lifetime Achievement Award is designed to celebrate a person who has made a significant impact on our industry. There can be no doubt that our recipient this year – John L Grove, who is honored posthumously – is richly deserving.
"His name is synonymous with access and cranes. He was the co-founder of two of the most famous American crane and access manufacturing companies. He created Grove cranes in 1947 – at the age of 26! – and in 1969 was co-founder of JLG Industries, which quickly became a pioneer in boom and scissor production. By the time he retired from JLG in 1993 it had become a world-leader in aerial platform manufacturing.
"He was a passionate engineer, endlessly creative, and the holder of 60 patents at the time of his death in 2003."
The judges said: "He's a legendary figure in the industry and played a key role in the inception of the platform access business. As 2019 sees the 50th anniversary of JLG, now feels timely to award this long over-due accolade."
The independent, impartial judging panel spent a full day considering the more than 100 entries received. The judges made decisions based on the merit of each entry and were excluded from entering their company for any award. The 2019 judges were:
Sérgio Kariya, president, Brazil-based Mills Estruturas e Serviços de Engenharia;
Teresa Kee, director, corporate safety at US-based United Rentals;
Karin Nars, executive chairman at Finland-based Dinolift;
Patrick Witte, vice president global sales & business development, US-based MEC Aerial Work Platforms;
Euan Youdale, Access International editor, was non-voting chair of the judging panel.
Event photographs and details of all shortlisted entrants will be available at www.iapa-summit.info
Other news you might be interested in