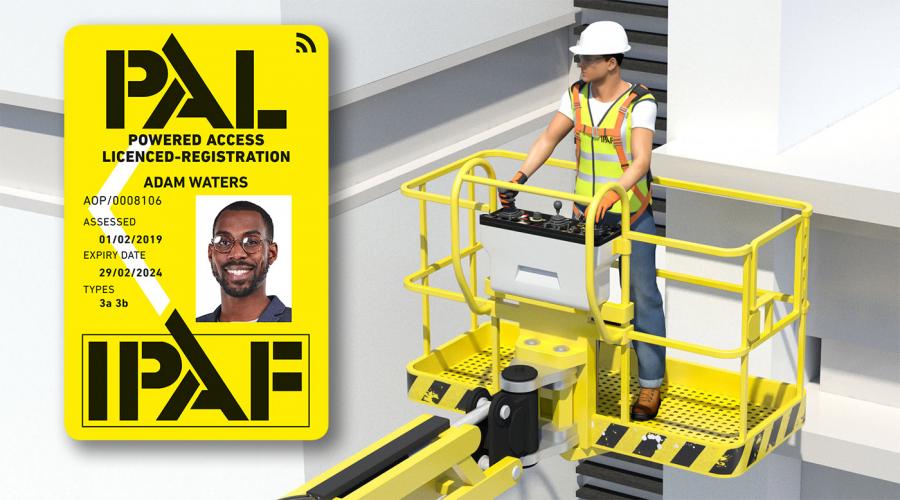 All valid Powered Access Licence (PAL) Cards issued by the International Powered Access Federation (IPAF) to MEWP and MCWP operators in circulation worldwide are now Smart cards, as since January 2015 all cards issued by the global PAL Card processing team at IPAF's head office in Cumbria, UK, have been Smart-capable.
The use of Smart technology was mandated by IPAF from January 1, 2015, to help prevent fraud, misuse and to interact with security, telematics and tracking systems on machines themselves to ensure only authorized, qualified and correctly familiarised personnel are able to operate Smart-enabled and compatible machines. As all PAL Card training must be refreshed or renewed at least every five years, it now stands that no cards issued pre-January 1, 2015 will still be valid in the world today.
Giles Councell, IPAF's Director of Operations, who led the adoption of Smart PAL Cards as part of IPAF's ongoing commitment to "new generation" technology in its training program, says: "Increasingly, equipment manufacturers, rental companies and end-users are utilizing the Smart functionality of the IPAF PAL Card – to prevent unauthorized use or access to MEWPs, to track fleet and equipment utilization, to record operators' machine-category qualifications and log their usage.
"IPAF works hard to safeguard its training program against misuse and thwart any attempt to copy, counterfeit or fraudulently obtain a PAL Card. The use of Smart technology, operators' photo id and our online verification system are all key planks of the way IPAF secures the PAL Card against potential abuses of this kind."
Peter Douglas, CEO & MD of IPAF, adds: "It is very encouraging to hear that the effort IPAF puts into making the PAL Card such a robust and globally recognized certification of its operator training is so highly valued by equipment manufacturers, rental companies, end-users, major contractors and training organizations worldwide.
"Manufacturers and hire firms often reference the Smart capability of the IPAF PAL Card whenever new technology is being talked about with regards to monitoring machine and fleet utilization, preventing unauthorized equipment use, telematics, geo-fencing and logging operator usage on different types of MEWPs."
To quickly and easily verify an IPAF PAL Card online visit www.ipaf.org/checkpal; to find out more about IPAF's globally recognised training program or find an IPAF Training Center near you, please see www.ipaf.org/training
Other news you might be interested in