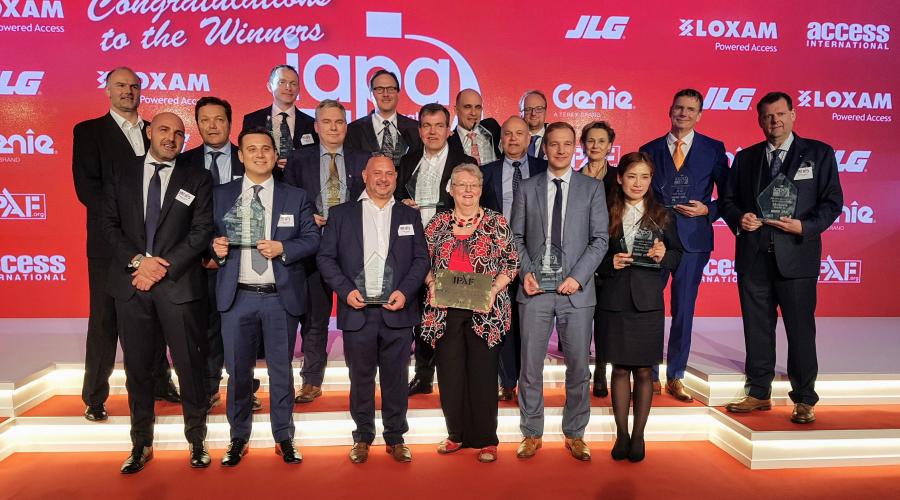 Nominations for the International Awards for Powered Access (IAPAs) are now open, and awards hosts IPAF and Access International are inviting all those interested to submit their applications without delay, and to book their places at the 2020 IPAF Summit & IAPAs, to be hosted at the Millennium Gloucester Hotel in Kensington, London, on 23 April next year.
The IAPAs are the most prestigious and respected awards in our industry. An independent judging panel of access industry leaders will vote to determine the winners. Celebrating excellence in the access industry, the winners will be announced at the IAPAs gala dinner, attracting around 450 attendees every year.
In the 2020 edition of the awards, categories range from new products and innovations to safety and training. The deadline for entries is 12 December 2019, so anyone intending to participate is advised to make their submission without delay.
The awards are free to enter, companies and individuals can enter themselves or nominate others, and entrants can submit entries for more than one award and more than one entry per category. The awards cover activities undertaken and for products launched between September 2018 and September 2019. Entries must be submitted in English using the official entry form, available via www.iapa-summit.info  
Andy Studdert, interim CEO & MD of IPAF, says: "It's great to see our members get behind these awards; the IAPAs dinner is a fantastic opportunity to bring our global industry together for a celebration of best practice as well as being a fun social and networking event in its own right."
He continues: "I urge everyone to take a look at the award categories, start thinking about what people or products they think are deserving of recognition, and to nominate those that they think are the very best in the business. The awards typically attract hundreds of entries, and this fierce competition is reflected in the calibre of the eventual category winners."
He concludes: "At this time, we are finalising who will be on the judges panel, and we look forward to a very strong set of awards entries for them to sift through early in the new year. In the meantime please visit www.iapa-summit.info for more information and to book your place at the 2020 IPAF Summit & IAPAs in London."
The full list of IAPAs categories is as follows: Access Rental Company of the Year; Contribution to Safe Working at Height; Digital Development Award; The IAPA Innovative Technology Prize; IPAF Training Centre of the Year; IPAF Training Instructor of the Year; Product of the Year – Mast Climbing Work Platforms & Hoists; Product of the Year – Scissor Lifts & Vertical Masts; Product of the Year – Self Propelled Booms & Atrium Lifts; Product of the Year – Vehicle and Trailer Mounted; IPAF/Access International Lifetime Achievement Award.
Other news you might be interested in