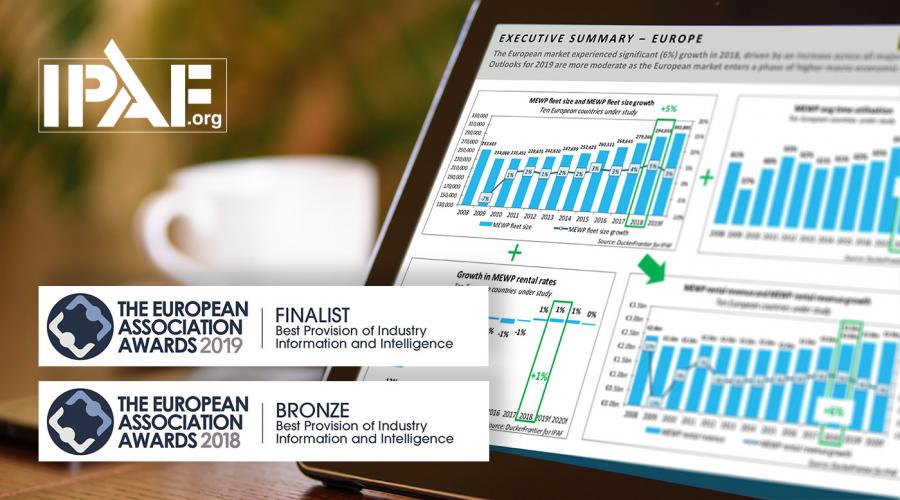 Selected members of the International Powered Access Federation (IPAF) will be eligible to claim a free version of the federation's Global Powered Access Rental Market Report when the 2022 edition of the award-winning publication is published in June – a significant addition to the growing package of IPAF membership benefits.
Peter Douglas, CEO & Managing Director of IPAF, comments: "The IPAF Global Powered Access Rental Market Report, published annually, is the leading comprehensive overview of key global MEWP rental markets, exhaustively compiled by Ducker with valued input from our members and worldwide industry experts.
"We have been engaged in creating this invaluable market intelligence with Ducker for more than 12 years, and we believe it deserves to be read by the widest possible audience. Not only will members now qualify for a free version of the report but also, having listened to feedback from members and the wider industry, we are reverting the publication date to June, following a decision to postpone it in each of the past two years owing to the challenges of gathering data during the pandemic.
"As our industry looks to recover, and as part of IPAF's ongoing commitment to supporting our members during economically volatile times, we have now decided that our rental, manufacturer, dealer/distributor and supplier members will be eligible to claim a version of the relevant market report free of charge. Each qualifying IPAF member company is invited to visit www.ipaf.org/reports for more information.
"We believe that companies – whether they are already members or considering joining the federation – will instantly recognise the value in this significant additional benefit of IPAF membership. For those not already familiar with the report, I urge you to view a copy from previous years on the IPAF website or join the special preview webinar to coincide with the release of this year's report on 8 June.
"The report considers the size, value and growth of the global MEWP rental market, analysing market trends such as rental and utilisation rates, fleet renewal and other indicators in key European markets, North America, China and the Middle East. As in previous years, the full version of the report will still be available to purchase, but this year, as part of our ongoing sustainability drive, we will no longer be offering printed copies, with the report being available in digital format only in future.
"IPAF will be exhibiting on stand 619 at Vertikal Days at the East of England Showground, Peterborough, on 11-12 May, where our team will be happy to talk to visitors about this exciting new member benefit. We look forward to seeing you at this or other upcoming events where we can tell you more about the reports. If you have any queries, please do not hesitate to get in touch with your nearest IPAF office or representative via www.ipaf.org/contact."
● IPAF's Global Powered Access Rental Market reports can be viewed or pre-ordered via www.ipaf.org/reports, with the 2022 edition due to be published in June. IPAF manufacturer, dealer/distributor, rental or supplier members are eligible for a free version of the relevant report. On 8 June IPAF will host a Rental Market Report Highlights 2022 webinar; please see www.ipaf.org/events for details about this and all upcoming IPAF events and webinars.
Other news you might be interested in