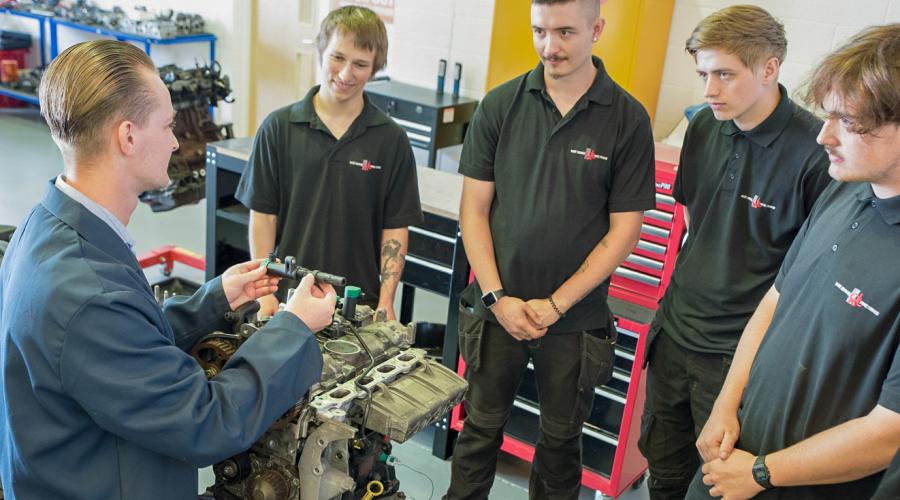 A comprehensive new industry "roadmap" to becoming a qualified MEWP technician or engineer has been finalised by the International Powered Access Federation (IPAF), with courses now listed and open for enrolment on two pathways to certification.
IPAF has been working on developing the roadmap since 2018, in response to calls from members about a lack of a clear route to training and certifying technicians and engineers, whether new entrants to the industry or existing personnel already carrying out inspections, maintenance or repairs in their current role.
The IPAF roadmap outlines two distinct pathways to obtaining qualifications and recognition; one is a formal engineering qualification that can incorporate the recently launched Lift Truck and Powered Access Trailblazer Apprenticeship and potentially lead to Competent Assessed Person (CAP) status. Enrolment is now open on to the apprenticeship, following an open day at training provider F-TEC's base in Swindon.
The other pathway is based on NVQs and leads to certified technician status. Having successfully completed this pathway, candidates may decide to progress to full engineer status, subject to undertaking additional relevant advanced technical training.
Richard Whiting, IPAF's UK & Ireland General Market Manager, who has led the project to identify and formalise the roadmap, says: "This fills an important gap in the market, to ensure we have enough skilled technicians to inspect and carry out basic routine maintenance, as well as qualified engineers with the specialist knowledge to repair and overhaul equipment and to carry out thorough inspections, as required by safety standards.
"While IPAF has taken the lead on putting this together, the Roadmap would not have been possible without valuable input from IPAF's members, or without our recognised training providers such as Training For Hire, TVH and F-TEC.
"The Trailblazer apprenticeship was initially aimed at forklift engineers – we pointed out the benefits of adding powered access to the programme, as hydraulics, battery technology and so on are common to both. The apprenticeship is now a broader qualification, serving workplace need and opening up greater opportunities for trainees.
"There was a real sense of satisfaction and achievement when we attended the enrolment open day at F-TEC in Swindon along with members of the working group of IPAF's UK Country Council and potential employers of apprentices earlier this year.
"Now the Roadmap exists we hope it will serve to emphasise the benefits of having a defined but flexible set of steps to follow, both to employers who desperately need to train, retain and recognise employees, and to people looking for a clear career path and ways to develop their professional qualifications while working in a job they love."
The IPAF Roadmap to certified MEWP service technician or engineer status is now complete. For more information and to register interest in entering candidates on to the IPAF Roadmap, please email richard.whiting@ipaf.org; courses from recognised training partners that form either Pathway A or B of the roadmap are now listed via www.ipaf.org/training and are open for enrolment now.
The first stage of qualifying Service Technician training is delivered as a six-day course by Learning For Hire. Upcoming courses include:
Bromsgrove c/o GTA: 3, 4, 10, 11, 17 & 18 June
Daventry c/o Lifterz: 2, 3, 9, 10, 16, 17 September
Oswestry c/o Learning For Hire: 4, 5, 11, 12, 18, 19 November
IPAF member firm TVH is offering qualifying Technical Support Training, for more information and dates please see Technical Training courses Spring 2020 - UK.pdf
Other news you might be interested in